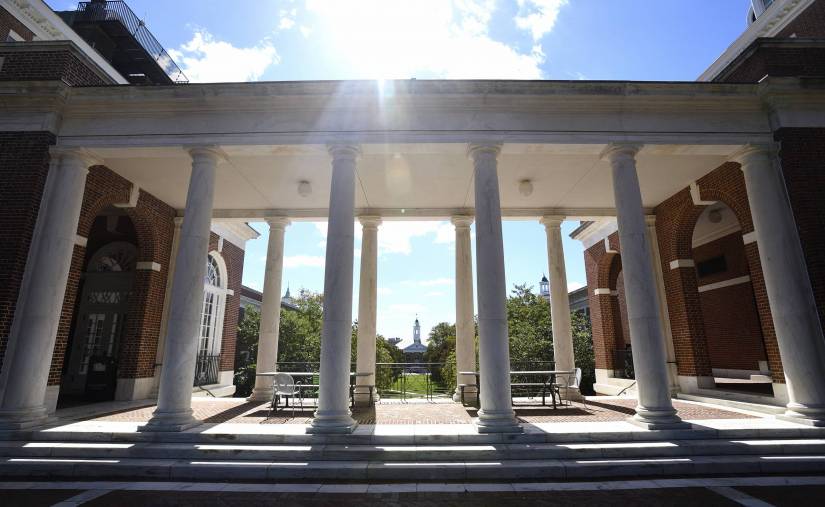 Johns Hopkins University's employees are supporting the university's mission, caring for their families, and giving back to their communities, all while facing significant effects from the COVID-19 pandemic. The university is committed to offering a number of resources that can help. We're grateful for your feedback, patience, and flexibility as we navigate this rapidly evolving situation together.
We are moving forward with spring semester plans previously detailed in November and have made extensive preparations to keep the Johns Hopkins community and our Baltimore neighbors safe, including providing expanded COVID-19 testing and observing key public health strategies.
We are closely monitoring the pandemic's continuing impact, locally and nationally, but our experience this fall, as well as those of peer institutions that conducted on-campus activities, clearly indicates that COVID infection can be managed in a university community with proper procedures, precautions, and a mutual commitment to each other's health and safety.
Additional details about the policies and procedures that will accompany the careful expansion of on-campus activity are included in our draft Phase 2 Return to Campus Guidance.
Diagnostic Testing
Broad-scale COVID testing is a new element of the Return to Campus Guidance as the university prepares for expanded on-campus activities in the spring. This includes:
Mandatory once-weekly testing for faculty, staff, graduate students, trainees, and postdocs (1) participating in or directly supporting in-person, on-campus classes (with exceptions for clinically based instruction) or (2) regularly exposed to undergraduates. Schools, centers, and divisions may require more frequent testing for their populations. Testing frequency may be increased to two times per week, based on public health conditions.
Nine campus testing locations have been established, and details, including hours of operation, have been posted.
Frequently Asked Questions
University operations
What is the status of activity on our campuses?

Johns Hopkins University is currently in the process of expanding on-campus activities for the spring semester, including offering undergraduates in-person residential and educational opportunities.  Graduate and professional schools have determined their own plans for the spring. This is part of a careful, phased approach to resuming activities, and each step in reopening is in accordance with state and local regulations and our own assessment of the public health status and operational readiness of our community.

We have learned a great deal in the last few months about how to maintain health and safety in a campus environment during the COVID pandemic—we still have not detected transmission within our research labs, even as we have increased the level of activity within them over the course of the fall—and we plan to move to Phase 2 of our reopening plan on Feb. 1.

During our current Phase 1, on-campus activities will be restricted to mission critical functions that cannot be performed remotely. Broadly, this means that most Johns Hopkins affiliates will not be on-campus on a full-time basis and services will continue to be offered virtually. All undergraduate and most graduate students will take their courses online or remotely.

Those who need to be present in their lab, office, or other campus location to conduct research activities can proceed after permission from a researcher's divisional leadership. Individuals engaging in on-campus research must comply with the guidance in Research Guidelines to reduce density, maintain physical distance, and observe other health and safety measures. Most instruction will remain in an online/remote modality, and the standards and expectations for teaching will be determined by each school individually. For example, schools may ask faculty and TAs to use campus studios for remote instructional purposes—these will be sanitized and set up with measures to protect users as described in the Instructional Guidelines.

Libraries will be operational, but access will be limited. Most other campus facilities, including recreational centers, will remain closed for the fall semester.

Last updated: Jan 22, 2021 12:21pm
How is the university determining which activities are allowed on its campuses?

For the fall 2020 semester, several cross-divisional workgroups studied the issues, gathered feedback, and drafted plans to guide a Phase 1 resumption of activities. A similar process is underway as the university moves toward a Phase 2 return for spring 2021.

Plans are reviewed by advisory groups of students, faculty, or health experts as needed and then presented to the university community for feedback before they were finalized. The latest information can be found in the Return to Campus Guidance.

Any decisions to allow on-campus activity will be consistent with both state and local restrictions and our own public health experts' assessment of the COVID-19 pandemic. While our phased approach seeks to align with the state of Maryland's approach, the alignment is not automatic, and there may be many times when the university cannot—for public health, safety, and/or operational reasons—be in the same phase as the state, just as not all counties in the state may be in the same phase at the same time. If public health conditions worsen, either locally or regionally, a return to earlier phases may be required.

All plans will follow core principles, chief among them a commitment to equity and inclusivity and the primacy of science and public health guidance offered by the world's leading public health experts here at Johns Hopkins.

Last updated: Dec 16, 2020 2:41pm
What factors will you consider when making a final determination about the spring semester?

No single public health metric will be determinative. Rather, our public health and infectious disease experts will advise the university based on a combination of factors and trends. We routinely review a comprehensive set of data, at the city, state, national, and global levels. We look at a number of metrics, including daily new cases, hospitalizations, ICU admissions, and mortality, as well as a set of Hopkins-specific capacity metrics that include testing, tracing, isolation and quarantine. In addition to our ongoing review of metrics, our public health experts are also conducting modeling in an attempt to forecast the trajectory of the disease in populations of relevance to us.

We are watching with concern the continued high level of COVID cases locally and nationally and anticipate further increases related to holiday travel and gatherings. Within our own community, we are seeing a significant rise in cases as well, among students, faculty, and staff. Even amid these troubling developments, we are continuing to prepare for the increase in on-campus activity for the spring semester that we announced in November. We have learned a great deal in the last few months about how to maintain health and safety in a campus environment during the COVID pandemic—we still have not detected transmission within our research labs, even as we have increased the level of activity within them over the course of the fall—and we remain cautiously optimistic that we can resume more in-person activity in late January.

Last updated: Dec 14, 2020 2:10pm
What do I need to know if I want to come to campus?

Individuals who are on-campus need to be aware of the following requirements that are detailed in this guidance:

Use of appropriate face coverings and adherence to other health/safety guidance, including physical distancing
No smoking or vaping
Mandatory influenza vaccination (by Nov. 20)
For the limited number of residential students, COVID-19 testing will be conducted upon arrival and on an ongoing basis throughout the semester

In addition, individuals engaging in on-campus research must comply with Research Guidelines and individuals engaging in on-campus instruction must comply with Instructional Guidelines.

Last updated: Oct 29, 2020 11:54am
Can events be held on campus?

No external (commercial, community, etc.) events will be held during Phase 2. Internal (JH affiliate attendees) events will be limited as follows:

All events deemed mission critical during Phase 2 shall be reviewed by HSE and require permission from the appropriate dean's office or University Administration department. These activities may include events that cannot be effectively conducted virtually and are directly related to research, education, and student activities.
JHU guidance will not exceed local regulatory public health rules in restricting group sizes and participants are expected to wear face coverings and maintain 6 feet physical distancing.
Event capacity is the number of people who can fit in the room while maintaining 6 feet between them with a maximum of 10 people.
Outdoor event capacity will be based on state and local guidelines, venue capacity, and physical distancing requirements and will be reviewed on a case-by-case basis.

Last updated: Dec 18, 2020 10:41am
Are visitors allowed on campus?

Generally, visitors to the JHU campus—including guests, family members, and pets—are prohibited. Visitors associated with K-12 partnerships, including participants, are also prohibited in Phase 2.

Prospective students and research volunteers will likely be permitted on campus under controlled conditions and for specific types of protocols.

Last updated: Dec 18, 2020 10:42am
Are recreational facilities open?

Presently, all on-campus recreational facilities are closed. For Spring 2021, we plan to open the rec center, Brody Learning Commons, and Milton S. Eisenhower Library with limits on density and reduced hours.

The Ralph S. O'Connor Recreation Center (OCR) on the Homewood campus and the Cooley Center at East Baltimore will operate with limited capacity and offerings.

At Homewood, strength and cardio equipment will be available with a maximum facility capacity of 60 patrons. Patrons must agree to and abide by the OCR protocols regarding physical distancing, face coverings, and cleaning. Group exercise classes will be offered virtually. In-person classes, with a maximum capacity of 10 per class, will be offered pending the availability of instructors. All group exercise participants must register and use their own mats. Tennis courts will also reopen. The OCR will employ an enhanced cleaning and equipment sanitization schedule. The locker rooms will remain closed. There will be no equipment checkout and no towels provided. Athletic field use will be activity-dependent and requests for use evaluated by OCR staff.

Similar capacity limitations will be published for the Cooley Center.

Last updated: Dec 18, 2020 10:43am
Do decisions about activities and health and safety protocols apply to buildings not located on the university's main campuses?

All reopening plans and health and safety guidelines established by the university apply to people taking part in activities in all of its owned or leased locations.

Last updated: Dec 16, 2020 3:36pm
How does the university's phased approach align with the state of Maryland and Baltimore City?

The university is guided by the types of activity allowed by both the state and the city along with its own evaluation of public health and medical advice from Johns Hopkins experts. Regardless of the numbered phases, the university will not allow more activities than the city and state, and at times, it may allow less. Specific instructions for university affiliates are provided by email, on the Hub, and through school- and department-specific communications.

Last updated: June 22, 2020 4:06pm
Health + safety
I feel ill or am concerned about exposure to the SARS-CoV-2 virus. What should I do?

All Johns Hopkins affiliates (students, trainees, staff, and faculty) are strongly encouraged to use Johns Hopkins resources when symptomatic or concerned about exposure. Anyone who feels ill or is concerned about exposure is encouraged to call the Johns Hopkins COVID-19 Call Center at 833-546-7546, seven days a week, between 7 a.m. and 7 p.m. The call center is staffed by Johns Hopkins nurses and physicians and specially trained nursing and medical students. When you call, a representative will instruct you about next steps depending on your circumstances. They will arrange for testing if needed, assist in transmitting information to Occupational Health, and conduct contact notification. Further, the caller will be given instructions regarding quarantine before a test can be secured. The criteria for testing are updated on a regular basis, and the most current criteria will be used when there is an assessment over the phone.

As has always been the case, individuals who have symptoms of COVID-19 or have tested positive for infection with SARS-CoV-2 should self-isolate at home except to get medical care until it's safe to be around others.

Last updated: Dec 16, 2020 3:38pm
I am living with someone who has tested positive for the SARS-CoV-2 virus. What should I do?

Anyone who feels ill or is concerned about exposure is encouraged to call the Johns Hopkins COVID-19 Call Center at 833-546-7546, seven days a week, between 7 a.m. and 7 p.m. The call center is staffed by Johns Hopkins nurses and physicians and specially trained nursing and medical students. When you call, a representative will instruct you about next steps depending on your circumstances. They will arrange for testing if needed, assist in transmitting information to Occupational Health, and conduct contact notification. Further, the caller will be given instructions regarding quarantine before a test can be secured. The criteria for testing are updated on a regular basis, and the most current criteria will be used when there is an assessment over the phone.

Last updated: Dec 16, 2020 3:40pm
Who is notified if I test positive?

Individuals who test positive will be contacted by a health care worker to receive guidance regarding self-isolation, monitoring of symptoms, and general health advice. Positive test results will be reported (as required by law) to the Maryland Department of Health, which will be responsible for the associated broad contact tracing. In addition, the JHCCC will conduct a short interview with the test-positive affiliate regarding their on-campus activity and contact with other JH affiliates as part of our own investigation, contact analysis, notification process (ICAN), to help determine if other JH affiliates may have been exposed by a JH affiliate or in a JHU-associated environment.

The ICAN/JHCCC team will do everything in its power to maintain the anonymity of the test-positive affiliate. JH affiliates who may have had meaningful exposure to a COVID-19-positive affiliate will be notified, without being told the identity of the COVID-19-positive affiliate unless consent is provided. These additional affiliates will be advised to self-quarantine for a period determined by the date of the potential contact and exposure. If affiliates are not contacted by the JHCCC, it means the JHCCC has determined that no meaningful contact with or exposure to a COVID-19-positive affiliate has taken place.

Other notifications include:

Employees (faculty, staff, post-docs): Supervisors of test-positive employees will not be notified of an employee's COVID-positive status unless the employee gives consent to do so; the supervisor will simply be notified that the employee is off-duty. Test-positive employees must secure clearance for return to work from Occupational Health prior to returning to campus.
Students: Students who have a test ordered and are asked to quarantine will be reported to their respective school's student affairs representative as being 'off-duty.' If a student provides consent, additional information will be provided. If the student tests negative, the school will be notified that the student is cleared. If consent is not provided by the student, a committee will review and evaluate the potential public-health risk to others. The committee can recommend and the university can elect to report the student's COVID-positive status to the school's student affairs representative without consent should the public health risks warrant such action. This will be a very rare circumstance. Test-positive students must secure clearance for return to class/campus from the Student Health Center prior to return.

Last updated: Aug 21, 2020 9:45pm
I need clearance to return to work after being tested or recovering from COVID-19. What do I do?

Employees should contact the Johns Hopkins COVID-19 Call Center at 833-546-7546, seven days a week, between 7 a.m. and 7 p.m. if they need clearance to return to work after being tested or recovering from COVID-19. Employees should not call Occupational Health for this activity. Graduate Students who are working on campus and need to be cleared should contact their respective Student Health Center (SOM, SON, BSPH – contact UHS; all other schools contact Homewood Health Center)

Last updated: Aug 21, 2020 9:44pm
Will everyone be required to wear face coverings while at JHU locations?

Everyone must wear face coverings (including all faculty, staff, students, postdoctoral fellows, other trainees, guests, vendors, and visitors) indoors and outdoors, on campus and in university buildings, and in and around leased spaces, except when in a single-occupancy office with a closed door or while eating or drinking at least six feet away from others.

Due to recent studies and in alignment with Johns Hopkins Medicine, the following are not acceptable as face coverings:

Any face covering with an exhalation valve
Neck 'gaiter' coverings
Bandanas

Exceptions to the requirement to wear face coverings outdoors will be made for individuals whose employment requires they work outside full time (e.g security, some facilities staff, etc.). They will need to wear face coverings when interacting with the public or when unable to practice social distancing.

The university will provide face coverings for JHU affiliates, who may also elect to use their own face coverings. Face coverings should be non-medical types in order to maintain supplies for health care use. Cloth face coverings must only be worn for one day at a time, and must be properly hand washed or laundered before subsequent use. They must at a minimum fit snugly but comfortably against the side of the face, be secured (e.g., with ties or ear loops), cover the nose and mouth, allow for breathing without restriction, and be able to be laundered without damage or change to shape.

Last updated: Aug 21, 2020 12:55pm
What should I do if safety protocols are not being followed by others?

Every member of our community is empowered to request compliance with guidance set forth here and in other university communications. Those who encounter noncompliance with guidance may notify the university via the JHU Hotline at:

844-SPEAK2US (844-773-2528)

Failure to comply with the health and safety guidelines places our community at risk for spreading the virus, which endangers our health and may result in further disruption of research and educational activities. Health, Safety and Environment (HSE) has the authority to shut down facilities and activities that are noncompliant with these health and safety precautions.

Last updated: Oct 15, 2020 12:00am
Can you eat outdoors without your mask if you're more than 6 feet from someone?

Yes—exceptions to the campus requirement for universal face coverings include time spent in a single-occupancy office with a closed door and eating or drinking at a physical distance of at least six feet from any other person.

Last updated: Sep 2, 2020 11:41am
Will the university test each person who comes to a JHU location?

For the fall, while we remain in Phase 1 of our reopening plan, widespread screening of everyone who comes to campus is not in place. Before the start of the spring semester, JHU will adopt a mass testing plan that will require a test before students return to campus and will require twice-weekly testing conducted by the university for undergraduates.

Testing will be required at least once weekly for faculty, staff, graduate students and post docs who are (1) participating in or directly supporting in-person, on-campus classes (with exceptions for clinically-based instruction) or (2) regularly exposed to undergraduates. In addition, the divisions may require testing for any faculty, staff, graduate students or post-docs who are deemed to have a heightened risk of exposure. Testing will be available and/or required for faculty, staff and students who are asked to quarantine due to exposure on campus, or who were working or learning in the same enclosed space (e.g., classroom or lab) at the same time as someone who tests positive. In addition, testing will be required for specific groups of contract workers and vendors, and all approved visitors.

Optional, free testing will be available on a weekly basis beginning in January for all asymptomatic affiliates who are on campus. More information and detailed guidelines for testing will be available in December, including test collection locations on all campuses and instructions for how to make testing appointments and receive test results.

The university will continue to provide medical management testing for those exhibiting symptoms of COVID or who have been identified for screening through our contact tracing process.

Last updated: Nov 2, 2020 3:48pm
Is the university enforcing quarantine and tracing contacts for anyone who has symptoms?

Anyone who feels ill or is concerned about exposure should call the Johns Hopkins COVID-19 Call Center at 833-546-7546, seven days a week, between 7 a.m. and 7 p.m. Callers to JHCCC who are ill or are concerned they may be infected with SARS-CoV-2 will be asked a series of questions regarding their symptoms and possible exposure to others who have COVID-19. For those individuals who meet the criteria set by the Johns Hopkins Infection Control Team in collaboration with Occupational Health, the JHCCC will arrange an appointment for a COVID-19 test.

Individuals who test positive will be contacted by a health care worker to receive guidance regarding self-isolation, monitoring of symptoms, and general health advice. Positive test results will be reported (as required by law) to the Maryland Department of Health, which will be responsible for the associated broad contact tracing. In addition, the JHCCC will conduct a short interview with the test-positive affiliate regarding their on-campus activity and contact with other Johns Hopkins affiliates as part of our own investigation, contact analysis, notification process (ICAN), to help determine if other Johns Hopkins affiliates may have been exposed by a Johns Hopkins affiliate or in a JHU-associated environment.

Last updated: Nov 2, 2020 3:55pm
When testing is expanded, how quickly will COVID test results be made available? Will it be the rapid test or PCR?

Our mass testing program will use saliva samples, and our goal is to provide results within 24 hours.

Last updated: Nov 2, 2020 3:56pm
Why are undergraduates going to be tested more often than graduate students, faculty, or staff?

Our testing policies are informed by the most successful practices that have emerged from our peer institutions during the fall semester and from emerging data about the pandemic. Undergraduates, because they typically live in congregate settings, tend to be at higher risk of contracting COVID, and of spreading it to a larger number of people, making early detection of asymptomatic cases particularly important in this group. At peer institutions that have conducted in-person operations during the fall semester, the vast majority of COVID cases are among undergraduates.

Last updated: Nov 2, 2020 3:57pm
Why is testing going to be mandatory for many faculty, staff, and graduate students?

Our testing policies are informed by the most successful practices that have emerged from our peer institutions during the fall semester. Although other institutions have seen none to very little transmission associated with classroom instruction and laboratory settings, and there has been no known transmission in our laboratory settings, we concluded that mandatory testing for many faculty, staff, and graduate students is prudent, particularly for those who come into regular contact with undergraduates. Individuals within our community face varying degrees of risk of serious outcomes from COVID, and individuals have varying degrees of risk tolerance. We and many of our peer institutions have concluded that including many faculty, staff and graduate students in our mandatory testing program, and offering optional testing for all affiliates, provides the greatest level of safety and peace of mind to the community.

Last updated: Nov 2, 2020 3:58pm
Are you considering technology for doing contact tracing or enforcing physical distancing?

Beginning Aug. 26, 2020, individuals returning to campus will be required to complete a daily health check using a mobile app/website called Prodensity. The short questionnaire will ask specific questions to assess a user's actual symptoms and/or exposure risks. Answers will yield a status to a campus pass, which will be used to grant/deny campus access. The campus pass expires after 12 hours. People may not report to campus unless they have a green campus pass.

This app has provisions for check-in and check-out of campus spaces, although this is not yet operational campus-wide. For those campus spaces (e.g. labs and research areas) that elect to manage density using this app, users may need to scan QR codes to ensure compliance with capacity limits. Please refer to individual laboratory policy for specific requirements.

Last updated: Aug 21, 2020 1:48pm
Is the university providing access to adequate, appropriate PPE?

The university will provide faculty, staff, and students with two reusable cloth face coverings appropriate for meeting the masking requirements for its campuses. More substantial PPE will be provided in situations where the work of the laboratory called for that level of PPE before the COVID-19 outbreak, or where strict physical distancing requirements cannot be met (e.g., equipment requires two persons for safe usage).

Last updated: June 30, 2020 8:56am
What is the plan to clean university buildings, especially those with high traffic?

Custodial crews will clean common areas, lobbies, restrooms, classrooms, and conference rooms daily based on CDC guidance. Several times daily, custodians will provide additional cleaning of high touch points (stairwell and room door handles, elevator buttons, etc.).

Individual affiliates will be expected to clean tables, surfaces, or labs with which they make contact and wipe down personal workspaces. Before starting activity in a space and before leaving any room in which they have been working, individuals must wipe down all areas with a cleaning agent. This includes any shared-space location or equipment (e.g. copiers, printers, computers, A/V and other electrical equipment, coffee makers, desks and tables, conference tables, light switches, door knobs, etc.). People should avoid using other affiliates' phones, desks, offices, or other tools and equipment and should clean and disinfect them before and after use.

Last updated: June 19, 2020 10:06am
What is the plan for safe use of elevators?

A university workgroup, in consultation with the faculty Health Advisory Group, determined that occupancy in elevators should be limited to four and that individuals should wear face coverings and press elevator buttons with another object (knuckle, elbow, etc.) if possible. Everyone should wash hands or use hand sanitizer with at least 60% alcohol upon departing the elevator.

Last updated: June 19, 2020 10:53am
What is being done about air ventilation in buildings in light of the danger of airborne transmission?

The ventilation—the number of air exchanges per hour and amount of fresh air intake—in each building is being reassessed and increased when appropriate. Facilities is also performing preventative maintenance checks to ensure filters have been changed and that systems are working properly.

Last updated: June 19, 2020 10:57am
Will Hopkins buses and shuttles observe safety guidance?

Everyone who takes public transportation or uses JH buses and shuttles must wear a face covering. Vehicle capacity will be set to limit density and in consultation with public health experts and regulatory guidance. The current limits are set at 24 passengers per JH bus and one rider group (single request) per van with a limit of eight passengers. For buses, passengers will be asked to enter via rear door only. Buses and Blue Jay Shuttle vans are cleaned after each driver's shift using HSE-approved, hospital-grade products and high touch points are cleaned several times a shift by each driver.

Last updated: June 19, 2020 10:58am
How will the university enforce safety measures in bathrooms?

Individuals are asked to take responsibility for respecting social distancing while using restrooms. Hand dryers will be disconnected and paper towels provided. Education and awareness signage regarding hand hygiene will be provided.

Last updated: June 19, 2020 11:06am
Will there be restrictions related to whether individuals who have traveled outside the area, or the country, can come to JHU locations?

There are no such restrictions for travelers at this time, but the university will be subject to any future such federal, state, or local restrictions. Students returning to campus for instruction in the fall will need to be aware of any restrictions at that time related to where they are traveling from, and they may be asked to quarantine upon arrival if government regulations dictate.

Last updated: June 27, 2020 9:48pm
Is the university COVID testing program free for JHU affiliates?

Yes. The university is covering all testing costs, and your insurance will not be billed.

Last updated: Jan 17, 2021 10:02pm
Employee information
How will I know if I am supposed to return to my JHU location?

Decisions about resuming work activity, once approved, will be communicated through deans, vice presidents, vice provosts, divisional business officers, or other senior leaders. We anticipate that the need to reduce the number of people coming to campus to meet social distancing requirements will continue for some time, and many employees who can continue to effectively work remotely will likely continue to do so for the near future.

Last updated: June 27, 2020 10:29pm
Will the increase in students on campus in the spring mean staff will be required to be on campus?

For the most part, staff who are currently working remotely will continue to do so in order to keep density low on our campuses. Only those needed on campus to support in-person research and academic activities will return. Divisional and department-specific plans are being developed now and managers will provide adequate notice to those who should return. Human Resources stands ready to support anyone who requires accommodations and adjustments.

Last updated: Nov 2, 2020 5:09pm
What if I want to return to working on-site at JHU or can't do my job remotely?

Managers will make decisions about telework in accordance with university guidelines. As more activities resume, it will be important to keep the density of individuals low and have those who can work remotely continue to do so.

Last updated: June 27, 2020 10:30pm
What if I don't want to return to on-site work because I have concerns about my health and safety, the health and safety of family members who are at increased risk, or other issues?

Based upon CDC guidance, some people may be at higher risk of experiencing negative COVID-19 outcomes due to their individual circumstances. Faculty, staff, students, and other trainees who fall into the CDC's definition of a vulnerable person, as defined and discussed further on the centers' website, may learn about reasonable accommodations available or request reasonable accommodations to their work or learning environment.

Information for faculty, staff, and postdoctoral fellows on the accommodations process may be found on the Office of Institutional Equity website, by phone (410-516-8075), or by email (oie@jhu.edu, titleixcoordinator@jhu.edu or OIEdisability@jhu.edu). Students should contact the Student Disability Services Coordinator at their respective school to begin the process. As always, anyone with a documented disability or who needs a religious accommodation, pregnancy or nursing parent adjustment may pursue accommodations as well.

Individuals who do not fall within the CDC guidelines for a "vulnerable person" but are concerned about returning to a JHU location due to their individual circumstances (such as household members who may be at higher risk) should contact their departmental or divisional human resources manager to discuss their concerns and whether adjustments may be made to address them. You may also contact the Office of Employee and Labor Relations in Central HR at EmployeeRelations@jhu.edu. Students with similar concerns should contact their dean of students or equivalent at their school. An adjustment may be made immediately and may be in place while the accommodation approval process is underway.

Last updated: June 27, 2020 10:31pm
Will individuals have notice before they are asked to return to campus so that they can set up child care, travel to Baltimore, or make other necessary arrangements?

The university understands that individuals will have a variety of needs to attend to, and PIs should consider appropriate notice to lab teams as part of their return to research plans.

Last updated: June 3, 2020 8:24am
Will faculty members be penalized if they think it is too soon to provide in-person instruction and prefer to continue remote instruction?

Faculty members are encouraged to reach out to appropriate university resources (outlined in the question above) if they require a health-based accommodation, and to discuss other potential adjustments with their departmental or divisional human resources manager. Any accommodation or adjustment will depend on the technology available to teach effectively—and the university is making more technology available to assist faculty in holding effective online or remote classes—and the social distancing appropriate for the individual faculty member.

Last updated: June 27, 2020 10:32pm
Will employees be able to have flexible schedules to offset personal or family concerns, such as revised school schedules or child care challenges? Will telework be offered as a permanent option?

The university will make every effort to provide enough advance notice for employees to make arrangements for child care and other individual needs. Individual departments will continue to follow HR policies for flexible work schedules and any concerns should be discussed with the employee's manager. No decisions have been made about long-term telework options.

All university employees have free premium Care.com memberships, which allow you to perform self-directed searches for a variety of caregiving needs. You must register through JHU's portal at or call 855-781-1303. In addition, you can use the Care.com digital portal to post a position for an in-home provider on your own. Care.com's website also has information about child care safety during COVID-19.

If you are required to return to work on-site and cannot find childcare, refer to the Sick and Safe Leave policy and JHU's general Sick Leave policy. Also, FMLA entitles eligible employees to take up to 12 weeks of unpaid, job-protected leave in a 12-month period for specified family and medical reasons. For specific questions regarding leave, contact HR Business Services at 443-997-2157 or HRBusinessServices@jhu.edu.

Last updated: June 19, 2020 8:44am
Where can I find out more information about the COVID-19 workforce relief funds? Can I make a contribution to those funds to support my fellow workers?

More information about the Johns Hopkins COVID-19 Workforce Relief Funds can be found on the Human Resources COVID-19 resource page, under the Financial Resources header. The university has set up two funds to provide support for our lowest-resourced employees and displaced contract workers who are in need of financial assistance as a result of the pandemic. These funds—the COVID-19 Employee Relief Fund and the COVID-19 Contract Worker Relief Fund—will follow the eligibility requirements set forth in the recent federal relief program. Right now, these funds are provided solely by the university, but we appreciate the request from so many of our faculty and staff who want to help their fellow workers by contributing to these funds, and we are exploring ways to make this possible.

Last updated: June 27, 2020 10:35pm
Facilities + transportation
Will the university provide shuttles or other transportation options to accommodate staggered or unusual schedules? Will it provide parking options in order to reduce the use of public transportation? Will shuttles have enough space for physical distancing?

Transportation services will continue to run with reduced density, required face coverings for driver and passengers, and increased cleaning. Transportation schedules will be adjusted to meet demand in support of increased research activity while maintaining capacity limitations.

Routes, schedules, and additional information are on the JHM Transportation Services website and the JHU Transportation Services website.

Vehicles are cleaned each driver shift using HSE-approved, hospital-grade products. Drivers will clean high-touch points several times per shift using Lysol or Clorox wipes. Note: Door opening and closing is controlled by operator in all vehicles. Use rear entry for buses.

For those researchers whose schedules may be adjusted, evening and weekend parking will temporarily be provided at no additional cost.

East Baltimore: Employees and students may park for free on the East Baltimore campus during "Base Access" time periods which, during the COVID-19 crisis, have been extended to Monday through Friday, 3 p.m. to 10 a.m. and all day Saturday, Sunday, and designated holidays
Homewood: Evening and weekend hang tag requirements are waived and all surface lots will be free until August 17 for the following hours: Monday through Friday, 3 p.m. to 10 a.m. and all day Saturday, Sunday and designated holidays

Last updated: June 26, 2020 3:02pm
Will Hopkins buses and shuttles observe safety guidance?

Everyone who takes public transportation or uses JH buses and shuttles must wear a face covering. Vehicle capacity will be set to limit density and in consultation with public health experts and regulatory guidance. The current limits are set at 24 passengers per JH bus and one rider group (single request) per van with a limit of eight passengers. For buses, passengers will be asked to enter via rear door only. Buses and Blue Jay Shuttle vans are cleaned after each driver's shift using HSE-approved, hospital-grade products and high touch points are cleaned several times a shift by each driver.

Last updated: June 19, 2020 10:58am
What is the university doing about employees who are paying for parking and can't use it?

The university is refunding monthly payments to all employees who paid for university parking for the months of April, May, and June, and employees will not be charged monthly parking fees for July. This will apply to individuals who worked at home and those who were asked to fill essential positions on campus during that time.

You do not have to do anything to receive this refund if you are part of the university payroll-deduction parking program. The refund will appear in your mid-July paycheck. For those employees who paid with pre-tax deductions, under applicable tax guidance the refund is required to be treated as wages or taxable income, so you will see that adjustment on your pay stub.

Please note that monthly parking fees will resume in August. If you wish to cancel your parking because you expect to continue working off-site, or for any other reason, you will need to use the online form to make that request. You can make this change at any time, but in order to avoid paying for August, you will need to cancel by July 15. You will be able to restart parking at any time using the current parking sign-up process for your location, which may require pre-payment.

Last updated: July 21, 2020 5:05pm
Can I go to my campus or building to get things from my office?

Quick trips to JHU locations, such as to pick up items, are at the discretion of your school and department and require approval from your supervisor. Please coordinate with them on the dates and times of any quick trip, so it can be done in accordance with the density measures in place.

Last updated: June 19, 2020 8:40am
Will Johns Hopkins security provide an escort to my car?

Security remains staffed 24/7 with presence inside and outside of buildings, and officers can provide walking escorts (with appropriate social distancing) at any time. For a walking escort for the Homewood Campus, call 410-516-7777 and for the East Baltimore Medical Campus call 410-955-5585. Individual may also use the Live Safe app to engage a virtual escort of their choosing who can monitor their location for the duration of their travel. The app is available online.

Last updated: June 3, 2020 8:26am
Financial implications
What is Johns Hopkins' current estimate of the fiscal impact of COVID-19?

The university's mitigation actions and efforts to restart research, clinical, and educational activities, along with some unexpected, one-time factors, significantly improved JHU's financial foundation. An original estimate, shared in April 2020, was that without mitigation efforts we could see projected losses of $100 million in FY20 and $375 million for FY21 (July 1, 2020 through June 30, 2021).

As a result of the very strong performance of many of our divisions in the first three quarters of the last fiscal year, as well as mission support for the School of Medicine from the Johns Hopkins Health System, increased federal funding, and some expense reductions as a result of the pandemic, we finished FY20 with a modest $75 million surplus (1.2%) on a budget of $6.5 billion. However, substantial challenges remain for the current fiscal year, for which we currently project a $73 million deficit, a figure that would be far worse without the one-year pause on retirement contributions and the salary freeze enacted for FY21.

Much uncertainty remains, particularly if the winter months bring another surge in COVID cases and subsequent disruptions to our operations.

Last updated: Oct 15, 2020 8:51pm
Will the university continue its austerity measures, including halting 403b contributions and the salary and hiring freeze in FY21?

We plan to continue the austerity measures put in place for the current fiscal year (July 1, 2020, through June 30, 2021). Even with them in place we still project a deficit of $73 million, and we must continue to exercise fiscal caution given the possibility of a second COVID surge or economic downturn. However, we do not anticipate significant additional mitigation actions this fiscal year, and we are working closely with the divisions to ensure that we can keep our commitment to resume retirement contributions, salary increases, and hiring in the fiscal year that begins next July (FY 2022). The end of those austerity measures is built into the university's multi-year planning for FY22 forward.

Last updated: Oct 15, 2020 8:59pm
Why are austerity measures necessary if the university finished FY20 with a surplus?

The better-than-expected result in FY20 reflects three strong quarters of fiscal performance across most divisions before the COVID pandemic, as well as one-time factors such as increased federal funding and mission support for the School of Medicine from the Johns Hopkins Health System. The suspension of retirement contributions was not a factor in that result, as it did not take effect until the beginning of FY21 in July. This fiscal year, we will experience a full year of COVID's effects, and we project a loss of $73 million even after the austerity measures. If they were not in place, the deficit would be much worse.

Last updated: Oct 15, 2020 9:01pm
Under what conditions would the university reconsider the pause in retirement contributions?

We continue to expect a significant loss in the current fiscal year (July 1, 2020, to June 30, 2021), and we are concerned about the possibility of additional financial impacts from a second surge in COVID cases that would require another shutdown of clinical, research and other operations, worsening our position. As a result, we continue to operate conservatively. However, if our results continue to improve throughout the fiscal year, we will reconsider our austerity measures, including the pause on retirement contributions.

Last updated: Oct 15, 2020 9:06pm
University divisions have announced furloughs and layoffs over the past few months. Will there be more?

Although the university-wide mitigation measures announced in April greatly reduced the need for employment actions, furloughs and layoffs were regrettably necessary within some units of the university as a consequence of the financial losses due to COVID-19. Those decisions were made at the divisional and departmental level, including within university administration. Although we face considerable uncertainty related to the ongoing pandemic, we do not anticipate additional widespread employment actions at this time.

Last updated: Oct 15, 2020 9:08pm
What reserves did the university have to cope with a fiscal crisis like this one?

In 2011 the university engaged in an analysis of its ability to withstand an economic downturn or other major fiscal event or pressures, and in the intervening years it markedly strengthened its balance sheet to weather revenue and/or liquidity disruptions. Since 2011, JHU's net assets have grown at an annual average of 8%, its cash has grown at an annual average of 10%, while its debt has been held essentially level (prior to the pandemic).

Johns Hopkins' improved cash reserves will certainly reduce the severity of the mitigation efforts the university will be required to undertake due to COVID-19. Nonetheless, given the pandemic's uncertain nature and duration as well as increased costs to safely maintain continuity in university operations, we must also make substantial, multi-year reductions in our expenditures.

Last updated: Oct 15, 2020 9:11pm
Will the university keep undergraduate tuition at the reduced rate for the spring semester?

Tuition for the spring semester will be at the originally published rate. As indicated in August, the 10% tuition reduction for the fall was a one-time occurrence included in a package of supports in recognition of the hardships associated with our change of plans for the semester.

Last updated: Nov 2, 2020 4:57pm
University officials have said Johns Hopkins operates on "thin margins." Why is that?

As a non-profit, Johns Hopkins reinvests its funds in faculty, student aid, facilities, and our community as we pursue excellence in our teaching, research, clinical, and service missions. The university typically achieves an operating surplus (which means more revenue than expense) that ranges between 1% and 2% of our total budget. Those surpluses, though small as a percentage of our total budget, fuel the strategic growth of the university.

Johns Hopkins' surpluses are typically smaller than those of its peer universities. The main reason for this is the fact that funded research, which requires significant institutional subsidies, represents the largest share of university revenues.

Last updated: Oct 15, 2020 9:18pm
Are other divisions essentially being asked to bail out the School of Medicine and its loss of clinical revenue?

No, other divisions are not being asked to bail out the School of Medicine (SOM) and have not provided subsidies.

Per the Responsibility-Centered Management model of budgetary accountability (RCM), SOM has taken a number of very significant and difficult actions to address its financial challenges before and after the start of the pandemic. SOM has also benefitted from mission support from JHHS.

Last updated: Oct 15, 2020 9:19pm
Why can't JHU deans determine the salaries and benefits of their employees?

In the response to this crisis, it is true that the deans did not (as they normally do) act individually to determine the salary increases for the employees of their respective divisions. Rather, university leadership, which includes the deans, decided for a number of reasons, to move on a uniform basis to freeze salaries for all university employees for fiscal year 2021.

Employee benefits have always been managed centrally and, for a number of legal and administrative reasons, cannot vary across divisions. The deans, as well as the Faculty Budget Advisory Committee (FBAC), play an important role in advising on any major changes in benefits, and the deans were particularly involved in the decision to suspend retirement contributions for FY21.

All of the deans supported the decisions to freeze salaries, to freeze staff hiring, and to suspend retirement contributions for FY21 in order to minimize the need for massive employee furloughs and/or layoffs and reductions in employees' salaries. They also supported those steps in order to provide budgetary breathing room for the schools to make additional carefully considered decisions in response to the COVID-related fiscal effects.

Last updated: Oct 15, 2020 9:24pm
Why haven't benefits been changed for employees of the Applied Physics Laboratory (APL)?

The APL's corporate structure is different from that of the schools and its employee benefits have been administered separately from the university since its inception. APL employees receive benefits under retirement and health and welfare plans and programs that are completely separate from university employee benefit plans and programs. The APL also has a different approved fringe benefits rate with its federal sponsors than the university rate.

There have been other times in the past when the APL has experienced reductions in its benefit programs when the university has not.

Last updated: Oct 15, 2020 9:29pm
Why doesn't JHU borrow money to get through this crisis?

The university has borrowed money to support operations through this crisis.

The university raised $300M (in a transaction that was originally planned for capital investment needs) in early March 2020. JHU also subsequently borrowed another $214M in short-term debt to ensure sufficient cash levels through this crisis.

The university anticipates that the combination of its debt, the cash reserves that divisions and the university as a whole have carefully accumulated over the past decade, as well as the actions taken to reduce expenses will position the university to not only meet cash obligations (i.e., payroll, vendor payments, debt payments, etc.) through this crisis but also position the university to make critical investments in its missions into the future. Given the uncertain nature and duration of the pandemic, the university continues to manage cash reserves conservatively.

Last updated: Oct 15, 2020 9:30pm
Why doesn't JHU tap the endowment to get through this crisis? How much of the endowment has no restrictions on it? Why not increase payout on the unrestricted endowment?

The endowment cannot ethically or prudently (or with the majority of its funds, legally) be used as a rainy-day account to carry the university through this crisis.

JHU's endowment is a collection of more than 4,000 individual funds, most of which have been given over time by donors. About 84 percent are restricted legally via gift agreements and Maryland state law as to how much may be expended in a given year and for what purpose(s). The other roughly 16% of the endowment, nearly $1 billion, represents "quasi endowments," which are funds (in most cases from donors) invested in the endowment based on the university's decision rather than required by donor terms.

A significant portion of these quasi endowment funds are designated for specific purposes, such as faculty support, financial aid or research. In addition, divisions and departments rely on them for annual expenses and if they were to be used for cash in the short term, they would have to be repaid.

Last updated: Oct 15, 2020 9:34pm
Why is the university continuing to spend money on construction projects?

We will continue to limit capital projects, moving forward only with those that are mission critical or impact health and safety and/or for which dedicated funding has been secured, such as the donor-supported 555 Pennsylvania Ave., SNF Agora Institute, and Homewood Student Center projects. In many cases, we are continuing planning and feasibility work during this period, not undertaking construction spending.

Last updated: Oct 15, 2020 9:36pm
What is Johns Hopkins' current estimate of the fiscal impact of COVID-19?

The university's mitigation actions and efforts to restart research, clinical, and educational activities, along with some unexpected, one-time factors, significantly improved JHU's financial foundation. An original estimate, shared in April 2020, was that without mitigation efforts we could see projected losses of $100 million in FY20 and $375 million for FY21 (July 1, 2020 through June 30, 2021).

As a result of the very strong performance of many of our divisions in the first three quarters of the last fiscal year, as well as mission support for the School of Medicine from the Johns Hopkins Health System, increased federal funding, and some expense reductions as a result of the pandemic, we finished FY20 with a modest $75 million surplus (1.2%) on a budget of $6.5 billion. However, substantial challenges remain for the current fiscal year, for which we currently project a $73 million deficit, a figure that would be far worse without the one-year pause on retirement contributions and the salary freeze enacted for FY21.

Much uncertainty remains, particularly if the winter months bring another surge in COVID cases and subsequent disruptions to our operations.

Last updated: Oct 15, 2020 8:51pm
Will the university continue its austerity measures, including halting 403b contributions and the salary and hiring freeze in FY21?

We plan to continue the austerity measures put in place for the current fiscal year (July 1, 2020, through June 30, 2021). Even with them in place we still project a deficit of $73 million, and we must continue to exercise fiscal caution given the possibility of a second COVID surge or economic downturn. However, we do not anticipate significant additional mitigation actions this fiscal year, and we are working closely with the divisions to ensure that we can keep our commitment to resume retirement contributions, salary increases, and hiring in the fiscal year that begins next July (FY 2022). The end of those austerity measures is built into the university's multi-year planning for FY22 forward.

Last updated: Oct 15, 2020 8:59pm
Why are austerity measures necessary if the university finished FY20 with a surplus?

The better-than-expected result in FY20 reflects three strong quarters of fiscal performance across most divisions before the COVID pandemic, as well as one-time factors such as increased federal funding and mission support for the School of Medicine from the Johns Hopkins Health System. The suspension of retirement contributions was not a factor in that result, as it did not take effect until the beginning of FY21 in July. This fiscal year, we will experience a full year of COVID's effects, and we project a loss of $73 million even after the austerity measures. If they were not in place, the deficit would be much worse.

Last updated: Oct 15, 2020 9:01pm
Under what conditions would the university reconsider the pause in retirement contributions?

We continue to expect a significant loss in the current fiscal year (July 1, 2020, to June 30, 2021), and we are concerned about the possibility of additional financial impacts from a second surge in COVID cases that would require another shutdown of clinical, research and other operations, worsening our position. As a result, we continue to operate conservatively. However, if our results continue to improve throughout the fiscal year, we will reconsider our austerity measures, including the pause on retirement contributions.

Last updated: Oct 15, 2020 9:06pm
University divisions have announced furloughs and layoffs over the past few months. Will there be more?

Although the university-wide mitigation measures announced in April greatly reduced the need for employment actions, furloughs and layoffs were regrettably necessary within some units of the university as a consequence of the financial losses due to COVID-19. Those decisions were made at the divisional and departmental level, including within university administration. Although we face considerable uncertainty related to the ongoing pandemic, we do not anticipate additional widespread employment actions at this time.

Last updated: Oct 15, 2020 9:08pm
What reserves did the university have to cope with a fiscal crisis like this one?

In 2011 the university engaged in an analysis of its ability to withstand an economic downturn or other major fiscal event or pressures, and in the intervening years it markedly strengthened its balance sheet to weather revenue and/or liquidity disruptions. Since 2011, JHU's net assets have grown at an annual average of 8%, its cash has grown at an annual average of 10%, while its debt has been held essentially level (prior to the pandemic).

Johns Hopkins' improved cash reserves will certainly reduce the severity of the mitigation efforts the university will be required to undertake due to COVID-19. Nonetheless, given the pandemic's uncertain nature and duration as well as increased costs to safely maintain continuity in university operations, we must also make substantial, multi-year reductions in our expenditures.

Last updated: Oct 15, 2020 9:11pm
Will the university keep undergraduate tuition at the reduced rate for the spring semester?

Tuition for the spring semester will be at the originally published rate. As indicated in August, the 10% tuition reduction for the fall was a one-time occurrence included in a package of supports in recognition of the hardships associated with our change of plans for the semester.

Last updated: Nov 2, 2020 4:57pm
University officials have said Johns Hopkins operates on "thin margins." Why is that?

As a non-profit, Johns Hopkins reinvests its funds in faculty, student aid, facilities, and our community as we pursue excellence in our teaching, research, clinical, and service missions. The university typically achieves an operating surplus (which means more revenue than expense) that ranges between 1% and 2% of our total budget. Those surpluses, though small as a percentage of our total budget, fuel the strategic growth of the university.

Johns Hopkins' surpluses are typically smaller than those of its peer universities. The main reason for this is the fact that funded research, which requires significant institutional subsidies, represents the largest share of university revenues.

Last updated: Oct 15, 2020 9:18pm
Are other divisions essentially being asked to bail out the School of Medicine and its loss of clinical revenue?

No, other divisions are not being asked to bail out the School of Medicine (SOM) and have not provided subsidies.

Per the Responsibility-Centered Management model of budgetary accountability (RCM), SOM has taken a number of very significant and difficult actions to address its financial challenges before and after the start of the pandemic. SOM has also benefitted from mission support from JHHS.

Last updated: Oct 15, 2020 9:19pm
Why can't JHU deans determine the salaries and benefits of their employees?

In the response to this crisis, it is true that the deans did not (as they normally do) act individually to determine the salary increases for the employees of their respective divisions. Rather, university leadership, which includes the deans, decided for a number of reasons, to move on a uniform basis to freeze salaries for all university employees for fiscal year 2021.

Employee benefits have always been managed centrally and, for a number of legal and administrative reasons, cannot vary across divisions. The deans, as well as the Faculty Budget Advisory Committee (FBAC), play an important role in advising on any major changes in benefits, and the deans were particularly involved in the decision to suspend retirement contributions for FY21.

All of the deans supported the decisions to freeze salaries, to freeze staff hiring, and to suspend retirement contributions for FY21 in order to minimize the need for massive employee furloughs and/or layoffs and reductions in employees' salaries. They also supported those steps in order to provide budgetary breathing room for the schools to make additional carefully considered decisions in response to the COVID-related fiscal effects.

Last updated: Oct 15, 2020 9:24pm
Why haven't benefits been changed for employees of the Applied Physics Laboratory (APL)?

The APL's corporate structure is different from that of the schools and its employee benefits have been administered separately from the university since its inception. APL employees receive benefits under retirement and health and welfare plans and programs that are completely separate from university employee benefit plans and programs. The APL also has a different approved fringe benefits rate with its federal sponsors than the university rate.

There have been other times in the past when the APL has experienced reductions in its benefit programs when the university has not.

Last updated: Oct 15, 2020 9:29pm
Why doesn't JHU borrow money to get through this crisis?

The university has borrowed money to support operations through this crisis.

The university raised $300M (in a transaction that was originally planned for capital investment needs) in early March 2020. JHU also subsequently borrowed another $214M in short-term debt to ensure sufficient cash levels through this crisis.

The university anticipates that the combination of its debt, the cash reserves that divisions and the university as a whole have carefully accumulated over the past decade, as well as the actions taken to reduce expenses will position the university to not only meet cash obligations (i.e., payroll, vendor payments, debt payments, etc.) through this crisis but also position the university to make critical investments in its missions into the future. Given the uncertain nature and duration of the pandemic, the university continues to manage cash reserves conservatively.

Last updated: Oct 15, 2020 9:30pm
Why doesn't JHU tap the endowment to get through this crisis? How much of the endowment has no restrictions on it? Why not increase payout on the unrestricted endowment?

The endowment cannot ethically or prudently (or with the majority of its funds, legally) be used as a rainy-day account to carry the university through this crisis.

JHU's endowment is a collection of more than 4,000 individual funds, most of which have been given over time by donors. About 84 percent are restricted legally via gift agreements and Maryland state law as to how much may be expended in a given year and for what purpose(s). The other roughly 16% of the endowment, nearly $1 billion, represents "quasi endowments," which are funds (in most cases from donors) invested in the endowment based on the university's decision rather than required by donor terms.

A significant portion of these quasi endowment funds are designated for specific purposes, such as faculty support, financial aid or research. In addition, divisions and departments rely on them for annual expenses and if they were to be used for cash in the short term, they would have to be repaid.

Last updated: Oct 15, 2020 9:34pm
Why is the university continuing to spend money on construction projects?

We will continue to limit capital projects, moving forward only with those that are mission critical or impact health and safety and/or for which dedicated funding has been secured, such as the donor-supported 555 Pennsylvania Ave., SNF Agora Institute, and Homewood Student Center projects. In many cases, we are continuing planning and feasibility work during this period, not undertaking construction spending.

Last updated: Oct 15, 2020 9:36pm
How is the university helping people who are hurt financially by the pandemic?

Even as we made every effort to address the fiscal challenges presented by COVID, we took steps to mitigate the impact of the pandemic on our community, both across our campuses and in the city of Baltimore. The broad sharing of financial sacrifice across the institution has meant that we have sought to pay particular attention to the least advantaged members of the communities of which we are a part.

These critical COVID-related supports have included: $12 million in emergency funding and additional financial aid to help students whose family situations have changed as a result of the pandemic; more than $1 million to launch two COVID-19 workforce relief funds; the creation of a fund to cover new, unanticipated caregiving expenses for our faculty, staff, and students that is anticipated to cost as much as $18 million; the construction of 127 state-of-the art studios and enhanced instructional spaces for faculty to conduct remote instruction; and more than $2 million in direct funding to assistance programs in Baltimore.

Last updated: Oct 15, 2020 9:40pm