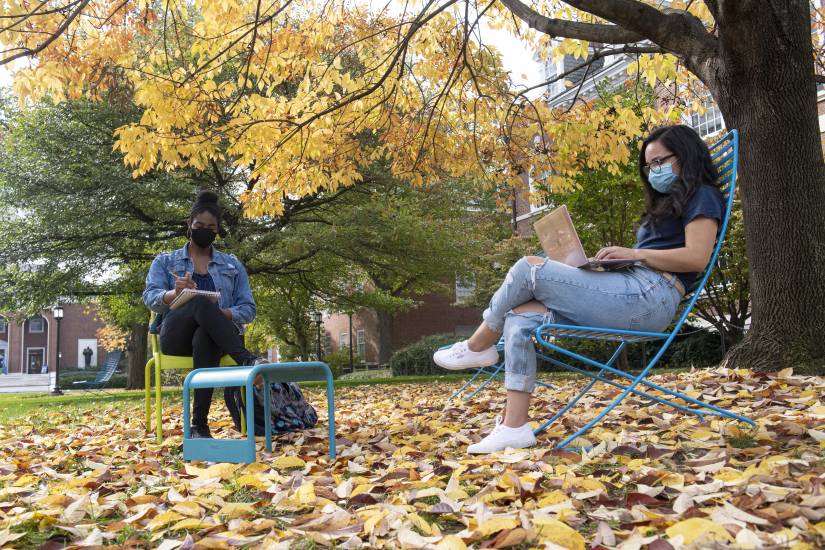 We are moving forward with spring semester plans to offer in-person residential and educational opportunities for undergraduates and have made extensive preparations to keep the Johns Hopkins community and our Baltimore neighbors safe, including providing expanded COVID-19 testing and observing key public health strategies.
We are closely monitoring the pandemic's continuing impact, locally and nationally, but our experience this fall, as well as those of peer institutions that conducted on-campus activities, clearly indicates that COVID infection can be managed in a university community with proper procedures, precautions, and a mutual commitment to each other's health and safety.
Additional details about the policies and procedures that will accompany the careful expansion of on-campus activity are included in our draft Phase 2 Return to Campus Guidance.
Recent messages
Use of Homewood campus spaces
Beginning Feb. 1, the following will be permitted, with required adherence to all university health and safety guidance:
The use of laboratory and design spaces outside of class meetings if instructors determine that use to be of utility to students currently enrolled in their classes
The use of Homewood spaces by students engaged in structured academic support activities operating with the support of schools and/or Student Affairs
The use of Homewood spaces for small group study organized by participating students and consistent with pre-existing setup of common spaces
The use of the Milton S. Eisenhower Library, Brody Learning Center, Hutzler Reading Room, O'Connor Rec Center, and temporary structures, with modified hours, limited capacity, and enhanced safety practices
The use of campus spaces by student groups for programming and/or events, with prior approval by Student Affairs
The use of select dining outlets for grab-and-go service only (as of Jan. 16)
The following will not be permitted but will be revisited during the spring semester:
The use of campus spaces by faculty for one-on-one meetings, office hours, or small (10 or less) discussions with students (graduate and undergraduate) or with other faculty.
The use of campus spaces by student groups for organizational meetings
6 things you need to know
1. We will offer the option of in-person educational opportunities for undergraduates for the spring semester.
Courses will be offered in a mix of modalities. In-person courses will be limited in size and conducted in a physically distanced environment, and select courses will continue to be taught virtually.
To the greatest extent possible, in-person courses will also have a remote option.
Students who come to campus may continue to have some or all of their classes conducted remotely.
Move-in and orientation for undergraduates living in Homewood campus residence halls will begin on Jan. 16.
The semester will start Jan. 25; all classes for Homewood undergraduates will remain online until Feb. 1.
In-person research opportunities will be available beginning Feb. 8 for undergraduates as part of school-approved lab plans. Remote opportunities will continue to be available.
Instead of a week-long spring break, days off will be scattered throughout the semester.
The suspension of university-sponsored undergraduate travel will continue at least through Intersession. Additionally, the outgoing undergraduate Study Abroad program has been suspended for Spring 2021.
2. Students are not required to come to campus.
Students who remain remote for the spring semester will be able to maintain their academic progress.
Virtual student services will continue to be offered to all students regardless of location.
3. The university will provide on-campus housing and dining options for the spring semester.
We will open up 50% of our on-campus residential capacity to first- and second-year students, accommodating 26% of Homewood undergraduate students
Move-in and orientation for undergraduates living in Homewood residence halls will begin on Jan. 16.
Juniors and seniors will continue to live off-campus as usual; approximately 62% of Homewood undergrads plan to live in the surrounding area
Homewood undergraduates who will be participating in on-campus activities should plan to arrive in Baltimore by Jan. 22.
Dining plans will be available, with options dependent on the public health situation at the time.
We are setting aside a substantial number of quarantine and isolation accommodations for residential students as well as isolation accommodations for any undergraduates living off-campus who are deemed in need of them by our health and wellness team.
4. On-campus activities will continue to follow best public health practices.
In-person student activities will remain restricted by campus guidelines governing physical distancing and limits on gathering size (currently 10 people).
We expect a decision about spring sports will be made in December.
We plan to open the rec center, Brody Learning Commons and Milton S. Eisenhower Library with limits on density and reduced hours.
5. The university will significantly expand its COVID testing program.
Testing will begin on the Homewood campus and elsewhere on Jan. 11; nine campus testing locations have been established, and details, including hours of operation, have been posted.
As of Feb. 5 and until further notice, all undergraduate students living in the Baltimore area are required to be tested three times per week.
Testing will be required at least once weekly for faculty, staff, and graduate students who are participating in or directly supporting in-person, on-campus classes (with exceptions for clinically-based instruction) or who are regularly exposed to undergraduates.
The divisions may also designate for required testing any faculty, staff, or graduate students who are deemed to have a heightened risk of exposure.
Voluntary testing will be available for all other affiliates in the Baltimore area.
6. We will continue to require students, faculty, and staff to observe COVID safety measures.
We will require comprehensive COVID safety measures on campus, including face coverings, physical distancing, limits on gatherings, enhanced cleaning protocols, and self-monitoring for symptoms.
Individuals will be required to check their symptoms using the ProDensity app every day before going to one of our campuses.
All students must have a flu vaccine or an approved exception before returning to campus.
Non-essential travel outside of the greater Baltimore area is strongly discouraged for undergraduates at any time. All undergraduate students must register their travel plans in Prodensity and quarantine until one negative test result is received after returning from travel and/or leave from campus.
JHU's Studios for Remote Learning
Frequently Asked Questions
University operations
Undergraduate student experience
CARES Act Emergency Grants
Instructional activities
Health + safety