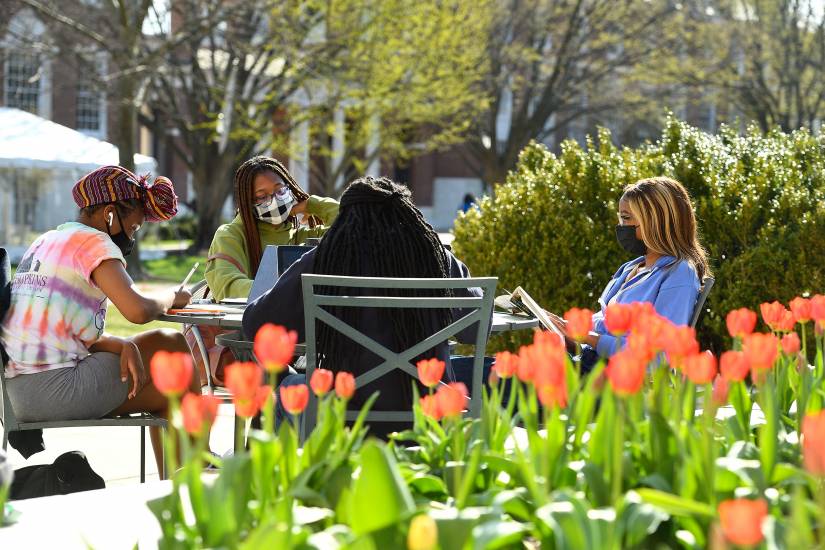 Johns Hopkins University is actively planning for the staged return of activity to our campuses, with the hope and expectation that the university will be substantially back to normal this fall. We anticipate a broad resumption of in-person classes for our undergraduate, professional, and graduate students this fall.
Our plans are predicated on continuing public health strategies to promote a safe campus and community. However, with increases in vaccine availability and distribution, we are now able to add vaccination as a critical component to our campus safety plan. We will require all students coming or returning to our campuses in the United States this fall, and who do not require religious or health exemptions, to be vaccinated. More information on vaccine requirements and availability
The pandemic continues to present unpredictable challenges, and we will monitor state and local COVID-related restrictions to ensure that our operations abide by them. If we have to scale back our plans to protect the public's health on our campuses and in our surrounding communities, we will do so.
Additional details about the policies and procedures that will accompany the careful expansion of on-campus activity will be included in the forthcoming Return to Campus guidance.
4 things you need to know
1. A broad resumption of in-person classes for undergraduate students is anticipated for fall.
The semester will start on Aug. 30, and all previously planned instructional breaks will take place, including Thanksgiving break (Nov. 22-26)
Most classes previously taught in person will return to that modality
Large classes—those with 50 or more participants—will generally be taught in online/remote modality or broken into smaller sections for public health, and in some cases, pedagogical, reasons
The Peabody Institute may implement special protocols for some performance classes as needed
In-person courses will not be required to have online/remote options for those who cannot or choose not to return to campus; divisions may develop specific sections/courses for these students
Course modalities are being updated for fall registration to begin in mid-April and may be further refined as planning continues over the summer
Grading policies will continue to be determined by individual divisions, but it is expected that most grading policies will revert to pre-COVID policies
Program directors and advising will work with international students who experience obstacles or disruptions in their plans to travel to Baltimore to help identify opportunities for them to continue to make progress in their studies
2. All students who do not require religious or health exemptions will be required to be vaccinated as a condition of coming to campuses in the United states this fall.
Vaccine distribution and availability has increased substantially in recent weeks; as of April 12, anyone in Maryland age 16 or older will be eligible for vaccination through all providers
Students will be required to report their vaccination status, and faculty and staff will be asked to do so
JHU will seek to facilitate opportunities for students who are unable to get vaccinated in their home jurisdictions to be vaccinated when they arrive on campus
The university is working to make on-campus vaccination available for all members of the Hopkins community
3. The university will provide increased on-campus housing and dining options for the fall semester.
The density in residence halls will return to near-normal capacity—university housing will be restricted to double-occupancy; no triple suites will be used
A residency requirement will be in place for all first-year students and sophomores
In-person on-campus dining will resume in de-densified spaces; temporary structures will remain in place to add dining capacity
4. COVID testing and other health and safety measures will remain in place as needed to protect our community.
Based on guidance from CDC and our own experts, the low prevalence of new COVID cases in the region, and changes to city and state requirements, as of July 1, those who have documented via the JHU vaccine registry that they are fully vaccinated will no longer be required to wear a mask, indoors or outdoors, on campus.
The capacity for a high-volume, asymptomatic COVID testing program for all students will remain in place; details on testing frequency for the fall have yet to be determined
The Johns Hopkins COVID Call Center will continue to conduct testing and contact tracing for those with symptoms or meaningful contact with a COVID-positive person
The university will maintain isolation and quarantine housing for undergraduates
We will continue enhanced cleaning and increased air exchange and filtration 24/7 in all facilities
Seasonal flu vaccination will be required
Recent messages
Frequently Asked Questions
University operations
What do I need to know if I want to come to campus?

Individuals who are on-campus need to be aware of the following requirements:

Faculty, staff, postdoctoral fellows, and undergraduate and graduate students who have uploaded vaccine documentation to VMS will no longer be required to wear face-coverings indoors, as well as to visiting faculty, scholars, and students.
Face-coverings will continue to be required in indoor settings for faculty, staff, and students who are not fully vaccinated.
Unvaccinated campus guests will be required to wear face-coverings while on the property. By not wearing a face-covering, guests are self-attesting that they have been fully vaccinated.
No smoking or vaping.
Students, employees, and contractors who are on-campus must complete a daily health check using Prodensity.

As of July 1, unvaccinated affiliates who are on campus must test twice weekly.

Last updated: July 12, 2021 8:49am
Can events be held on campus?

Yes. Outdoor events can be held without any capacity limits, but indoor events are limited to 50 persons unless special permission has been granted. Special permission is also required for food at indoor events (no restrictions for outdoor). Please email the Office of the Chief Administrative Officer at CAO-Office@jhu.edu with questions or to request permission.

Last updated: June 23, 2021 5:15pm
Are visitors and guests allowed on campus?

Both Visitors and Guests are welcome at JHU.  

Visitors: Visiting faculty, scholars, and students are defined in JHU Visitor Policy and generally on campus for a month or more with formal appointments. These individuals are subject to the same policies as faculty, staff, and students, respectively. Because these visitors are assigned JHED, they should upload proof of vaccination status like all other faculty, staff, and students. 

Guests: All others are considered "guests," who are not subject to vaccination mandates. Unvaccinated campus guests will be required to wear face coverings while on the property. By not wearing a face-covering, guests are self-attesting that they have been fully vaccinated. 

Last updated: June 23, 2021 5:14pm
Do decisions about activities and health and safety protocols apply to buildings not located on the university's main campuses?

All reopening plans and health and safety guidelines established by the university apply to people taking part in activities in all of its owned or leased locations.

Last updated: Dec 16, 2020 3:36pm
What is the university's guidance on travel at this time?

The university's travel policies have returned to normal effective July 1, 2021.

Last updated: July 12, 2021 8:50am
How does the university's phased approach align with the state of Maryland and Baltimore City?

The university is guided by the types of activity allowed by both the state and the city along with its own evaluation of public health and medical advice from Johns Hopkins experts.

Last updated: June 22, 2021 12:47pm
What are the current shuttle schedules?

As of July 1, the following changes are in place regarding JHU Transportation Services: 

Capacity restrictions have been lifted on buses and shuttle vans. Buses may return to carrying all seated plus standing passengers.  Shuttle vans may carry up to 14 passengers.

 

Face coverings are still required at all times while on board all JHU buses and shuttle vans.

 

The Homewood-Peabody-JHMI route has returned to its normal schedule. See full schedule

 

Service is expected to be restored to both the Remington and the Homewood-Mt. Washington Express routes in early August; when available, exact start dates and routes / schedules will be posted on the Shuttles page

and communicated through Transportation Services social media, the TransLoc apps, the Hub, and Today's Announcements.

 

Hop Van rentals are once again become available, to be driven by faculty, staff, and students who have completed the Hop Van Student Driver Certification program. Vans may carry their normal capacity of 7 or 8 total occupants. Face coverings are still required at all times while on board a JHU Hop Van. New Hop Van Student Driver certifications are expected to resume at some point in August, but students wishing to begin the certification process may complete the online training program and submit their release forms allowing for a driving record check per the process outlined on the Hop Van Rentals page.

Last updated: July 12, 2021 2:40pm
Academics + Student Experience
Will students and faculty be required to be on campus?

Yes, with the exception of large (greater than 50-person) lectures, which will be conducted online or broken into smaller sections for both public health and pedagogical reasons. Faculty and students at heightened risk for severe outcomes from COVID may seek accommodations through the Office of Institutional Equity or the Office of Student Disability Services, respectively.  

Last updated: June 22, 2021 2:18pm
Will all courses have remote/online options?

No. Courses will not be required to have online or remote options. 

Last updated: June 22, 2021 2:18pm
What about international students who may be unable to travel to the United States?

We recognize that international students may continue to experience disruptions in their plans to travel to Baltimore; program directors and advising services will work with those students to help identify opportunities for them to continue to make progress in their studies, but hybrid options will not be available in all classes. 

Last updated: June 22, 2021 2:19pm
What grading policies will be in place this fall?

Grading policies will be determined by individual divisions, but the expectation is that most will return to pre-COVID policies. 

Last updated: June 22, 2021 2:19pm
Will first-years and sophomores be required to live on campus?

Yes. Our residence halls will operate at near normal capacity in the fall, and we will reinstate the residency requirement for sophomores and maintain it for first-year students. 

Last updated: April 9, 2021 11:35am
Will student dining facilities be open?

Yes. We anticipate that campus dining facilities will be open for in-person dining at a reduced density, with exact requirements to be determined based on public health conditions closer to the fall. In addition, we will retain the temporary structure on the Freshman Quad to provide additional dining space. 

Last updated: June 22, 2021 2:21pm
What will the university do if students have exposure to COVID-19 or test positive?

Our hope is that we will have limited exposure/positive tests given the vaccine mandate. However, to be cautious, we will continue to provide a substantial number of quarantine and isolation accommodations for residential students as well as isolation accommodations for any students living off-campus who are deemed in need by our health and wellness team. Students who receive a negative test after being informed that they have been exposed to COVID-19 will still have to quarantine for 14 days, since it is possible to get a false positive from a test. 

Last updated: June 22, 2021 6:54pm
Vaccinations
Will Johns Hopkins provide vaccinations for JHU affiliates?

All Johns Hopkins affiliates in Maryland and Washington, D.C., can schedule a vaccination appointment through Johns Hopkins Medicine in MyChart. Johns Hopkins University is also hosting a series of clinics where faculty, staff, students, and contractors can receive a COVID-19 vaccine. Vaccinations are free and staff can use COVID-19 vaccine leave for time off while they receive or recover from the vaccination. Visit the COVID Vaccine Information site for updates.

Last updated: June 22, 2021 11:30am
Is there anything I need to do before I can schedule a vaccination at a Johns Hopkins physician office or JHM clinic?

If you don't already have a MyChart account, you may receive an email asking you to activate your account. MyChart is a secure website and mobile app used by Johns Hopkins Medicine that can be used to schedule COVID-19 tests and vaccinations, if you need them in the future. If you have any questions about MyChart, please send an email to Testinginfo@jhu.edu.

Last updated: June 29, 2021 3:07pm
Vaccination mandate
Why is Johns Hopkins University requiring the COVID vaccine?

Multiple vaccines have been demonstrated to provide high levels of protection against the COVID virus with reports of only minimal and brief side effects following administration. Ensuring that the overwhelming percentage of our community's population is vaccinated will greatly reduce the risk of the virus's spread on our campuses and will also protect our neighbors in Baltimore.

Johns Hopkins affiliates who are required to be vaccinated—and who were not vaccinated at a Johns Hopkins Medicine facility—can upload a photo of their COVID-19 vaccination record to the JHU Vaccine Management System. Affiliates may also submit an exception request in the VMS.

More information about submitting proof of vaccination to the VMS is available on the COVID Info website.

We encourage anyone interested in learning more about the science of the vaccine to visit Johns Hopkins Medicine's COVID-19 Vaccine Safety website.

Last updated: July 12, 2021 2:52pm
Who is included in the vaccination mandate?

COVID-19 vaccination will be required for all faculty, staff, postdoctoral fellows, and undergraduate and graduate students who will be working or studying at a U.S.-based university campus or worksite, beginning August 1. That includes:

Members of non-clinical departments at the School of Medicine; members of clinical departments will be governed by Johns Hopkins Health System vaccination policies.
Members of collective bargaining units.
Contractors who provide services to the university community and whose primary work location is on university properties located in Maryland or Washington, D.C., regardless of employer, except contractors or vendors whose presence at any JHU property is solely limited to the delivery of goods.
Those who are doing business on behalf of the university, including individuals engaged in work-related travel.

Medical and religious exceptions will be made where appropriate. Affiliates who are pregnant or attempting to get pregnant may also request an exception.

"Worksite" includes locations that are not within the Homewood, East Baltimore, or Washington, DC campuses, such as but not limited to Keswick, Mt. Washington, etc.

Visitors who fall under the JHU Visitor Policy (i.e., visiting faculty, students, and scholars) are subject to the vaccination mandate.

Last updated: July 1, 2021 2:08pm
Who is exempt from the mandate?

Individuals who are, with permission of their supervisor, working in a fully remote capacity and do not visit any Johns Hopkins worksite or third-party location on behalf of JHU are exempt from the COVID-19 vaccination mandate. 

Contractors or vendors whose presence at any JHU property is solely limited to the delivery of goods are exempt. 

Students who are enrolled in entirely online programs and do not utilize Johns Hopkins facilities, and non-degree and non-credit students, including those attending the Peabody Preparatory, are exempt. 

Guests (individuals who are on campus and not subject to the JHU Visitor Policy), which includes those on campus for short periods for tours, meetings, and public events are exempt. 

Medical and religious exceptions will be made where appropriate using our standard vaccine exemption processes. Those who are pregnant or trying to get pregnant may also seek an exception. The deadline to apply for an exemption exception is August 1.

Last updated: June 22, 2021 12:50pm
When will the mandate take effect?

Those covered by the mandate will be required to submit proof of vaccination or apply for a medical, religious, or pregnancy exception by Aug. 1.

The university will provide free vaccination upon arrival for those traveling to a U.S.-based campus or worksite from abroad. Until individuals are fully vaccinated, they will be required to mask when indoors (even if masks are not broadly required) and be tested twice weekly.

Last updated: July 12, 2021 2:53pm
Are vaccinations required for students?

Yes. All JHU undergraduate and graduate students who will be on-campus in the United States attending classes, performing duties, and/or participating in on-campus activities will be required to upload documentation of receipt of a COVID-19 vaccine or receive an exception.

Last updated: June 22, 2021 12:11pm
What should I do if I am arriving on campus and am not yet fully vaccinated, e.g. not 2 weeks post my final vaccination date?

Please upload your vaccination information as soon as your second vaccination is complete. Upon arrival at JHU you will need to receive a COVID test at one of our testing centers and isolate until you receive a negative result. Until you are considered "fully vaccinated" (two weeks after your final vaccine), you will need to wear a mask indoors and be tested 2X/week. Once you have uploaded your documentation and waited the requisite amount of time to be considered fully vaccinated, you can stop masking/testing. Anyone coming to campus from an international location who has not been fully vaccinated will be given a 6-week grace period to comply with the requirements, allowing them ample time to complete whatever steps are necessary upon return to JHU. 

Last updated: July 1, 2021 2:20pm
Should students who are unvaccinated arrive earlier in order to get the vaccine?

No, it is not required to arrive early solely for vaccination purposes. Students who are unable to receive the vaccine in their home country/state may arrive on time and start their vaccinations upon arrival. JHU will provide clinics during move-in days.

Last updated: June 22, 2021 2:00pm
For international students
Which vaccines will be accepted for international students?

If an international student uploads proof of any of the following vaccines, they will be classified as "vaccinated" by the university: 

AstraZeneca

CoviShield 

J&J/Janssen

 

Moderna

 

Pfizer

 

Sinopharm

 

Sinovac

 

Johns Hopkins recognizes that students in China who received the Sinopharm vaccine may have vaccination documentation that refers to the (1) Beijing Bio-Institute of Biological Products Co Ltd. or (2) Wuhan Institute of Biological Products. The VMS review team is aware of these alternate names for the Sinopharm vaccine. When submitting your documentation, even if it lists one of these other names, please select "Sinopharm" from the drop-down menu to expedite review and approval.

If the student received a vaccine that has not received WHO emergency use authorization, they will be revaccinated with one of the vaccines that is approved for use in the U.S. 

Last updated: July 5, 2021 7:05am
What if I am returning to JHU from abroad and am not yet considered "fully vaccinated"? What should I do? Is there a grace period?

If you have received two doses of a WHO-authorized vaccine (see FAQ above), please upload the documentation as soon as you have it. You can also obtain a vaccine when you arrive in the U.S. at any vaccination site or through Johns Hopkins. Upon arrival at JHU you will need to receive a COVID test at one of our testing centers and isolate until you receive a negative result. Until you are considered "fully vaccinated" (two weeks after your final vaccine), you will need to wear a mask indoors and be tested 2X/week. Once you have uploaded your documentation and waited the requisite amount of time to be considered fully vaccinated, you can stop masking/testing. International students will be given a 6-week grace period to comply with the requirements, allowing them ample time to complete whatever steps are necessary upon return to JHU. 

You will not be considered out of compliance as long as you complete your vaccination within the 6-week grace period, upload your documentation during that time, and continue masking/testing until fully vaccinated. 

Last updated: July 1, 2021 2:22pm
How does the policy apply to international students traveling to Johns Hopkins' U.S.-based campuses from abroad?

For those international students arriving from abroad who may not have access to a U.S.- or World Health Organization-authorized vaccine before returning to campus, we will offer a grace period and allow them until September 30 to submit proof of vaccination. The university will provide free vaccination upon arrival for those traveling to a U.S.-based campus or worksite from abroad. Until individuals are fully vaccinated, they will be required to mask when indoors (even if masks are not broadly required) and be tested twice weekly.

Last updated: June 22, 2021 2:01pm
What will happen if a student receives one dose of a two-dose vaccine in their home country and doesn't complete the series before they arrive on campus?

If a student arrives with one dose of a vaccine that is authorized in the US, we will give them the 2nd dose. If they arrive with one dose of a vaccine that is not authorized for use in the US, we will give them a full course of a US-authorized vaccine.

If the student can get a first dose in their home country (but does not have time for the second), we recommend that they go ahead and get it, regardless of whether the vaccine is authorized in the U.S.

Last updated: June 22, 2021 2:02pm
If a student gets the first dose of a two-dose vaccine, but doesn't get the second dose on time, do they have to repeat the full series?

No. The student should get the second dose, regardless of the interval.

Last updated: May 20, 2021 1:46pm
Can students receive U.S. FDA-approved boosters if they received an initial foreign COVID-19 vaccine?

This will be determined once we know more about if/when boosters will be recommended.

Last updated: May 19, 2021 3:54pm
Vaccination Exceptions
Will exceptions for vaccination be granted? What is the process?

Requests for exceptions should be made through the Vaccine Management System (VMS). Medical and religious exceptions will be granted with appropriate documentation. In addition, affiliates who are pregnant or attempting to get pregnant may request an exception.

Note that the only true medical contraindications to the COVID-19 vaccine are 1) a severe anaphylactic reaction to a prior dose of one of the mRNA COVID-19 vaccines (requiring the use of epinephrine or EpiPen) or 2) an allergy to a component of the vaccine.

If you were treated for COVID-19 symptoms with monoclonal antibodies or convalescent plasma, you should wait 90 days before getting a COVID-19 vaccine. Affiliates may request a medical exception to wait to get the vaccine until the 90-days has elapsed.

Last updated: June 22, 2021 12:13pm
What are the medical criteria for COVID vaccination exceptions?

The only true contraindications to the COVID-19 vaccine are 1) a severe anaphylactic reaction to a prior dose of one of the mRNA COVID-19 vaccines (requiring the use of epinephrine or EpiPen) or 2) an allergy to a component of the vaccine.

If you were treated for COVID-19 symptoms with monoclonal antibodies or convalescent plasma, you should wait 90 days before getting a COVID-19 vaccine. Affiliates may request a medical exception to wait to get the vaccine until the 90-days has elapsed.

NOTE: Having had COVID-19 in the past is NOT a permissible criterion for an exception.

Last updated: June 23, 2021 12:21pm
What additional requirements will be in place for students with approved vaccination exceptions?

Testing requirements will be increased for affiliates who have not been vaccinated. The requirements are:

Vaccinated residential (residence hall) students – 1x/week
Vaccinated non-residential students – no mandated testing
ALL unvaccinated students, staff, and faculty who have obtained an exception – 2x/week

If the mask requirement is lifted for vaccinated affiliates, masks will still be required for unvaccinated affiliates.

Last updated: June 23, 2021 12:21pm
Should students with medical exceptions to vaccination apply for accommodations via SDS to get single rooms?

Students are not eligible for special accommodations solely because of the COVID-19 vaccine exception per se. Students may be eligible for accommodations if the medical exception is based on a condition that itself would qualify them for a single room.

Last updated: June 8, 2021 9:01am
How to submit proof of vaccination or request an exception
How do I report my vaccination status?

The university has created a Vaccine Management System (VMS) for reporting vaccine status, similar to the system used to report flu vaccination. All JHU affiliates must log into VMS to upload their documentation by August 1. Affiliates who were vaccinated at a JHM clinic and who provided consent for JHU to access their vaccine record upon logging into the VMS will not need to do anything further. 

Last updated: July 1, 2021 2:13pm
What is the link for the VMS?

Last updated: July 1, 2021 2:16pm
How will the university verify COVID vaccine records from other countries in other languages?

The university asks that vaccination documentation in other languages be translated (and certified) before they are uploaded to the forthcoming Vaccine Management System. All affiliates will electronically sign their submission to affirm that the information that they provided is accurate.

Last updated: June 22, 2021 12:15pm
Is the university contemplating an antibody test (or some other proof of immunity) after vaccination?

No.

Last updated: June 22, 2021 12:16pm
How can JHU ask about my vaccine status? Isn't this a HIPAA violation?

The U.S. Equal Employment Opportunity Commission (EEOC) has confirmed that Federal EEO laws do not prevent an employer from requiring all employees physically entering the workplace to be vaccinated for COVID-19, so long as employers provide reasonable accommodations and other EEO considerations. The EEOC does not consider questions about vaccination status to be medical inquiries. HIPAA, the Health Insurance Portability and Accountability Act, provides protections for patients' confidential health information, and it covers what your health care provider can share with others—not employers and what they can ask for.

Last updated: June 23, 2021 5:01pm
What file types are acceptable for uploading proof of vaccination?

You can upload a JPEG, HEIC (iPhone), or PNG photo of your vaccination card or a PDF copy of a vaccination record.


Last updated: July 22, 2021 10:45am
What do I do if I lost my vaccination card?

If you were vaccinated in Maryland, you can register and obtain your COVID-19 vaccination record from Maryland MyIR, a free website service that allows consumers to view and print copies of their official vaccination records directly from ImmuNet, Maryland's immunization information system. Just register, download or print a copy of your certification of vaccination, and upload it into VMS. 

If you were not vaccinated in Maryland, your doctor's office or the location where you were vaccinated (e.g., CVS, Walgreens, etc.) should have a record and you should reach out to them to get a copy. You may also be able to locate this on your patient portal or on the pharmacy website under prescription records or immunization record.  

Last updated: July 1, 2021 2:18pm