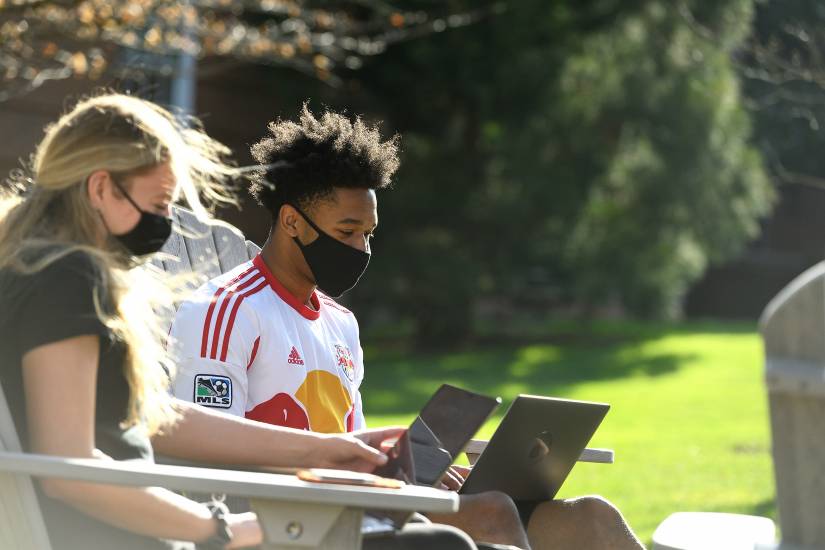 Johns Hopkins University is actively planning for the staged return of activity to our campuses, with the hope and expectation that the university will be substantially back to normal this fall. We anticipate a broad resumption of in-person classes for our undergraduate, professional, and graduate students this fall.
We know that the months ahead will present further challenges, and our return to greater in-person activity will require adjustments—for us as individuals and as an institution—as we renew the connections to one another in this new environment that are core to our university's mission now and for the future.
Class modality
The semester will start on Aug. 30, and all previously planned instructional breaks will take place, including Thanksgiving break (Nov. 22-26)
Most classes previously taught in person will return to that modality
Large classes—those with 50 or more participants—will generally be taught in online/remote modality or broken into smaller sections for public health, and in some cases, pedagogical, reasons
The Peabody Institute may implement special protocols for some performance classes as needed
In-person courses will not be required to have online/remote options for those who cannot or choose not to return to campus; divisions may develop specific sections/courses for these students
Course modalities are being updated for fall registration to begin in mid-April and may be further refined as planning continues over the summer
Grading policies will continue to be determined by individual divisions, but it is expected that most grading policies will revert to pre-COVID policies
Program directors and advising will work with international students who experience obstacles or disruptions in their plans to travel to Baltimore to help identify opportunities for them to continue to make progress in their studies  
Academic calendar
Spring semester 2021
Spring Break: To reduce the COVID risks posed by travel, Spring Break will be replaced by individual days off distributed throughout the semester:
Reading period: May 3-4
Exam period: May 5-13
University Commencement: Johns Hopkins University plans to hold the universitywide Commencement in-person for undergraduate seniors at Homewood Field on Thursday, May 27 at 7:30 p.m. EST. Should weather prohibit the Thursday evening ceremony, the rain date is scheduled for Friday, May 28 at 11:30 a.m. EST.
Fall semester 2021
First day of classes: Aug. 30
Labor Day (no classes): Sept. 6
Thanksgiving break: Nov. 22-26
Last day of classes: Dec. 6
Reading period: Dec. 7-8
Exam period: Dec. 9-17