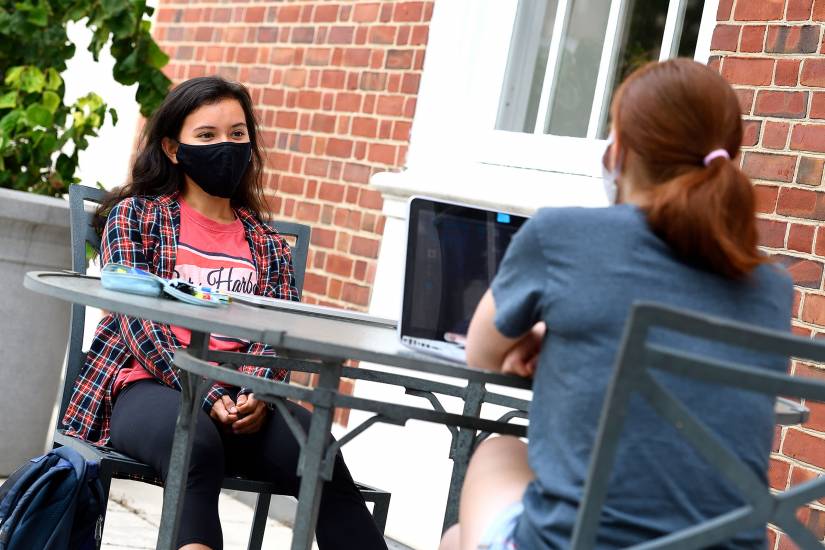 The safety of our campus community and our Baltimore neighbors remains our topmost consideration as we resume in-person activities. Your ongoing efforts to follow the guidelines of our student compact are crucial to a successful return to campus life.
We welcomed students back to Baltimore for the spring semester with careful preparations and an expansion of our COVID testing program, and we will continue to prioritize the health and safety of our community as we move into the summer and fall.
COVID testing
Those who are experiencing COVID symptoms or who may have been exposed to someone with the COVID virus should call the Johns Hopkins COVID Call Center (443-287-8500).
Optional, free testing will be available on a weekly basis for all asymptomatic affiliates who are on campus. 
Testing will be required 3x weekly for all undergraduates living on or off campus in the Baltimore area.
Testing will be required at least once weekly for faculty, staff, and graduate students who are participating in or directly supporting in-person, on-campus classes (with exceptions for clinically based instruction) or who are regularly exposed to undergraduates.
The divisions may also designate for required testing any faculty, staff, or graduate students who are deemed to have a heightened risk of exposure.
Testing will be available and/or required for faculty, staff, and students who are asked to quarantine due to exposure on campus, or who were working or learning in the same enclosed space (e.g., classroom or lab) at the same time as someone who tests positive.
Testing will be available and/or required for our contract workers, vendors, and necessary visitors.
More information and detailed guidelines for testing will be available in December, including test collection locations on all campuses and instructions for how to make testing appointments and receive test results.
Other health safety measures
Influenza vaccination will be required for all affiliates who will be on campus, starting on Nov. 20.
Existing COVID safety protocols remain in effect, including mandatory face covering on campus (indoors and outdoors) and in any JHU facilities; physical distancing; and limits on gatherings.
Students, faculty, and staff who are on campus will be required to make daily attestations about their health and any possible COVID symptoms through the Prodensity app.
Non-essential travel outside of the greater Baltimore area is strongly discouraged for undergraduates at any time. Essential or emergency travel should be registered with Student Affairs so students can receive support for appropriate self-quarantine and testing upon return to Baltimore/campus. Depending on the circumstances of travel, additional testing and quarantine may be required.
Student Health Insurance
Students are required to enroll in the JH Student Health Insurance Plan for spring semester unless they waive coverage in accordance with university policy. Students enrolled the Krieger School, the Whiting School, Peabody, Carey School, SAIS, and the School of Education who are J1 or F1 visa holders and returning to the United States are required to have the plan and cannot waive. International students in the Schools of Medicine, Nursing, and Public Health returning to the U.S. need to show proof of coverage in Baltimore and Washington, D.C., or need to enroll in the student health plan. Students who are United States citizens and are returning to the MD/D.C. area for the spring must have coverage in this area. If a student previously waived coverage in the fall and their plan does not provide coverage in the MD/DC area, they will be required to enroll in the Student Health Plan for the spring.

Students can update waivers in SIS Self Service in the Health Insurance tab under "Personal Info." Updates must be made by Wednesday, Jan. 20, 2021, or waivers will automatically rollover to the Spring semester and university health insurance benefits will not be available. Information on the plan and associated costs can be found on the JHU student benefits website at https://hr.jhu.edu/benefits-worklife/healthlife/student-health-benefits/. Questions should be referred to each school's registrar's office.
Mental health
The COVID-19 outbreak may be stressful, particularly for those with family and friends affected. Students experiencing stress or anxiety can find support resources at wellness.jhu.edu or contact their school's student affairs office. Other resources include: