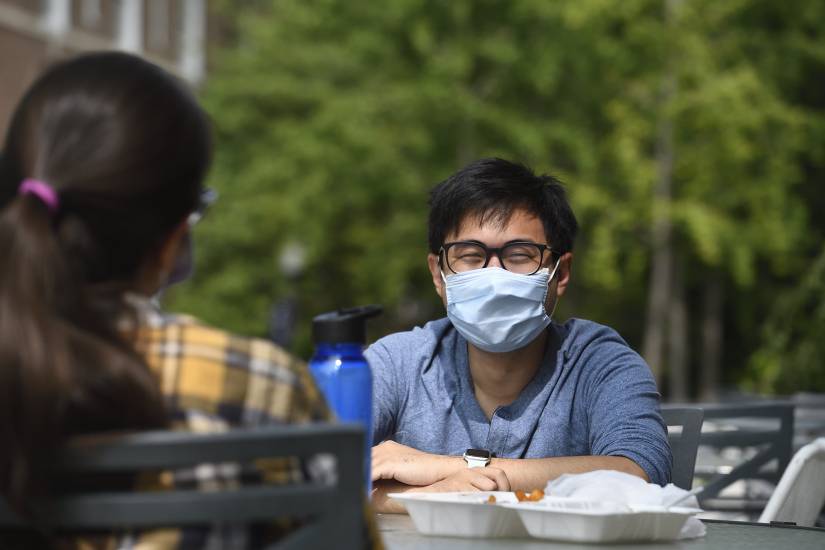 Throughout the fall semester, we have had a small group of students living in the residence halls and approximately 2,000 undergraduates living off-campus in Baltimore. We are proud of your diligent efforts to keep our community safe, and as we welcome more students back to Baltimore, your efforts will become all the more crucial. Our ability to stay together in-person throughout the spring semester depends on us all to do our part.
On-Campus Housing
Occupancy
The residence halls will be open with limited capacity based on public health guidelines. Each student will have a private bedroom, and no more than two students will share a bathroom in apartments and suites. Students assigned to community buildings (AMR I, II, and Rogers House) will be assigned to a specific bathroom and set of fixtures. Community baths will be limited to no more than three residents sharing a set of fixtures.
Additional cleaning will take place each day in all residence halls with special attention to high touch areas such as door handles, elevator buttons, etc. Occupancy will be limited in elevators, and hallways will have specific flows to reduce the frequency of residents crossing paths. Unless public health conditions change, only residents of the building will be allowed to enter.
We have secured self-quarantine and isolation housing for on-campus residents should they need it. We will also provide isolation accommodations for undergraduates living off campus if our health and wellness team determines the students need them.
Housing Assignments
The housing application process for both first-year and sophomore students will open on Tuesday, Nov. 3, at 10 a.m. EST. Students will access the housing application through the Housing Portal. The application process will be open until Tuesday, Nov. 10, at 10 a.m. EST.
First-year students will be given priority for on-campus housing followed by sophomores who previously indicated they were interested in either on-campus or off-campus JHU-managed properties. At this time, off-campus JHU-managed properties will not be an option as results from the most recent survey of students' housing intentions suggest sufficient on-campus housing inventory exists.
If actual demand for on-campus housing outpaces supply because responses vary significantly from the survey results, on Nov. 12, we will notify any second-year students to whom we cannot offer on-campus housing. This notification will be followed by individualized support for finding alternative housing through the Off-Campus Housing Office.
Room assignments will be communicated on Wednesday, Dec. 2.
Move-in
Move-in for on-campus students will take place from mid-January to Jan. 24, in advance of the start of classes on Jan. 25. In mid-December, students will be able to log onto the Housing Portal and sign up for a move-in day and time. On the selected move-in day, students will go through COVID-19 testing prior to receiving their residence hall key. Students will then be able to access their residence hall and begin the unloading process.
Due to public health guidelines, Housing will provide move-in bins and each student will be expected to move their belongings into their room. We encourage all students to pack lightly for the spring semester. Unfortunately, due to public health guidance, families and guests may not enter the residence halls.
Pick-Up of Personal Belongings Stored from Spring 2020
Students currently living in Baltimore who need to retrieve their belongings are strongly encouraged to do so this fall. Please visit our website to schedule a time. You may also contact Housing Operations directly at mybelongings@jhu.edu or 410-516-7960.
In mid-December, the housing portal will open for off-campus students to schedule an appointment to retrieve their belongings. Due to public health guidelines, a small number of appointments will be available from Jan. 11-23 for students living off campus and from Jan. 24-30 for those students living on campus this spring. 
Sophomore students who will live in on-campus housing can make arrangements prior to the start of classes and after classes begin.
For students who are not returning to Baltimore for the spring semester, Housing will continue to hold their property until they return to campus.
For more information on the belonging retrieval process, please visit our website.
Off-Campus Housing
The Off-Campus Housing Office will offer a series of workshops for students seeking off-campus accommodations starting the first week of November and culminating in the Virtual Off-Campus Housing Fair scheduled on Tuesday, Nov. 24, from noon to 2 p.m. EST. Both students and families will be invited to attend. Students will be highly encouraged to understand both the leasing and termination processes as well as the importance of signing a contract.
Dining
Locations
Multiple dining facilities will be available to students, faculty, and staff on the Homewood campus including FFC, Nolan's, Levering, and Charles Street Market. Additional dining locations will open as the campus recovery plan progresses. All facilities will feature grab-and-go service unless public health guidance allows limited seating.
Public Health Measures
Facility plans and layouts have been prepared and reviewed to uphold both CDC and university health and safety guidelines. All staff members have been trained on additional sanitization methods and use of cleaning and sanitization products, and they are screened daily for wellness and utilization of personal protective equipment. New safety and directional signage will help students navigate the dining halls and get their food. Students have the ability to view menus and offerings in advance through the online menu system or to order meals for pick-up from specified locations through our mobile ordering application.
Meal Plans
Four meal plan options will be offered to on-campus residents. Those plans include the 19, 14, and 10-meal-a-week plans plus the 80-block. All residential students will be required to select one of these meal plans for the spring semester.
Dietary Accommodations
Dining offerings will continue to include Kosher, Halal, vegan, vegetarian, gluten-free, and nut-free options. Students with other dietary needs are asked to register through the Office of Student Disability Services, which will pass that information on to Dining. Students will be contacted by dining to coordinate a time with a dietitian or the culinary team to ensure they can eat safely.
Residential Life
Community Programs/Initiatives
Residents will have continued opportunities to engage with other members of the community in various formats in the spring, both remote and in-person. Offerings for smaller floor/hall gatherings and larger building-wide and community-wide programs will be available, all within the guidelines of each phase the university is in. Residents will participate in initiatives and connect with others through intentional conversations, community-based programs, and opportunities that promote lifelong learning, holistic wellness, and community and global citizenship.
Live-in Staff
Residential communities are staffed by both Resident Advisors (student staff) and Residence Directors (professional staff) who live in the communities, connect students to resources and engagement opportunities, and are available to support students in a myriad of ways. Staff will help to create an environment in the residence halls in which learning will occur, students will live together, and individuals will have many opportunities to foster friendships, develop life skills, and become involved in a variety of activities.