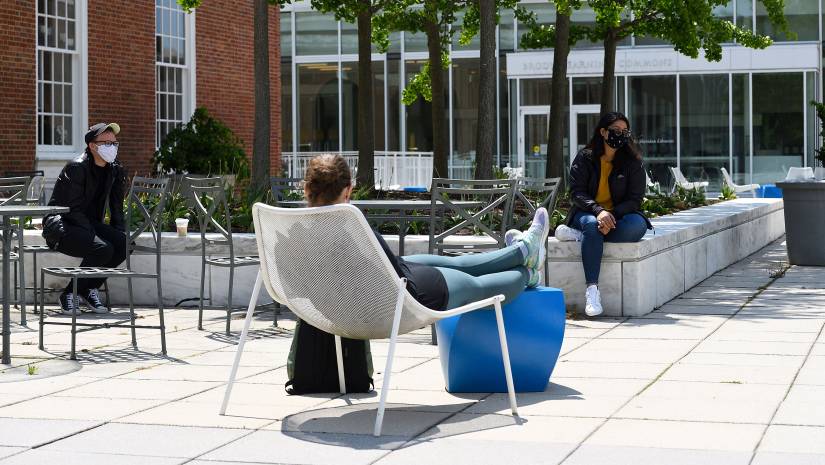 Every member of the Hopkins family has a shared responsibility to keep each other safe and healthy. We will have to be vigilant and exercise self-discipline to meet this challenge to protect the heart of the campus experience.
As the academic year progresses, we will be working within state and local restrictions and our own public health experts' assessment of the COVID-19 pandemic. Campus buildings, classrooms, and libraries will operate at reduced density with limited hours.
Whenever possible, services will operate virtually. For in-person activities, we'll implement basic public health measures—including physical distancing, mandatory masking, and enhanced cleaning protocols—in accordance with guidelines outlined in the Return to Campus Guide.
As students return, behaviors and expectations must evolve in order to uphold our commitment to public health and protect the most vulnerable within our community. As such, we are evaluating ways to work with students and their families to enhance and maximize compliance with public health and university guidance.
Student facilities
All three Homewood campus programming or JHUnions spaces (Levering Hall, the LaB, and Mattin Center) will be open with limited hours and priority given to academic instruction
Mattin Center practice rooms will be closed for the fall semester
Student organizations
Resources and online training will be provided to help student groups operate remotely or at a reduced in-person capacity
In-person meetings and small-scale programs allowed following physical-distancing policies
Limited tabling or other recruitment methods permitted
Small gatherings and recreational activities
Limited participation and outdoors when possible for games, yoga, and outdoor pursuits
Virtual on-demand options available
Lawn and patio furniture will be affixed to the ground to meet physical distancing requirements
Large programs + campus traditions
Fall traditions like Hoptoberfest and the Lighting of the Quads will go on, but with a mix of socially distanced in-person and virtual experiences
The Student Activities Fair will offer a hybrid approach with outdoor and virtual offerings
Meeting and activities should be held outdoors when possible
Pre-registration will be required for many events
Orientation + First-Year Experience
The goal of this programming is to facilitate a successful transition for new students through events, resources, and initiatives that foster an inclusive community and create opportunities for intellectual and personal growth.
Virtual Orientation for all incoming students will begin in early July and continue through the first six weeks of the semester
Move-in to JHU residence halls likely to occur over 4 days with scheduled sign-up
Convocation will likely be virtual/online
Student employment
Student employment and paid internships will continue to be available for students this fall
Students receiving federal work study do not need to be on-campus or in Baltimore to use their award. Campus jobs that can be conducted remotely are eligible for federal work study
A new online system will be introduced before the fall semester that will allow students to apply for both remote and in-person student jobs and internships across all divisions of the university
Financial aid for Homewood students
Renewal financial aid packages will be e-mailed to all students the week of July 6
The summer savings expectation has been waived and replaced with a grant
Student financial services will ask juniors and seniors to confirm their housing plans online by Aug. 1; University Housing will asking first- and second-year students to confirm their housing plans between July 10–22
Financial support is available to help students who need additional assistance as a result of the pandemic, or for any other reason. Call, e-mail, or request a virtual appointment with the Office of Student Financial Services between the hours of 8:30 a.m. and 4:30 p.m. Monday through Friday