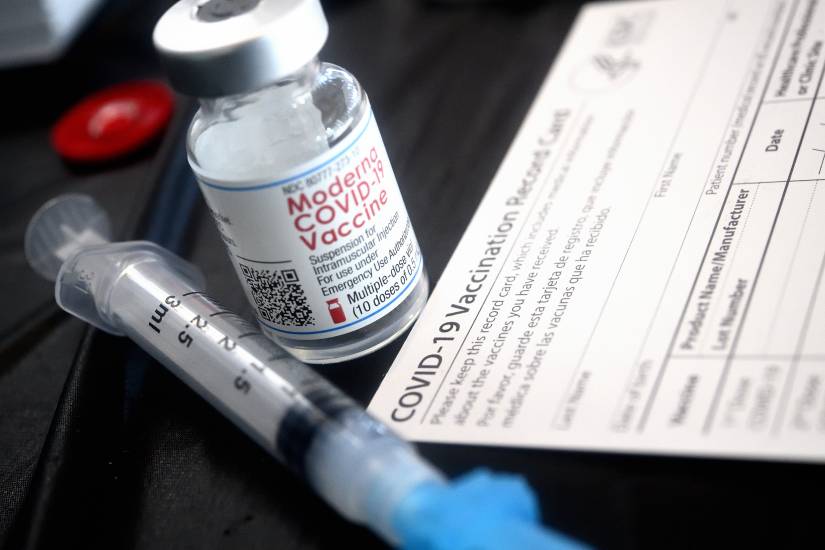 Ensuring that the overwhelming percentage of our community's population is vaccinated will greatly reduce the risk of the virus's spread on our campuses and will also protect our neighbors in Baltimore.
Effective Aug. 1, 2021, COVID-19 vaccination is required for all faculty, staff, postdoctoral fellows, and undergraduate and graduate students who will be working or studying at a Johns Hopkins campus or worksite in the U.S.
This policy includes:
Individuals working at off-campus worksites such as Keswick, Mount Washington, and Johns Hopkins at Eastern
Members of collective bargaining units 
Contractors who provide services to the university community and whose primary work location is on university properties located in Maryland or Washington, D.C., regardless of employer
Anyone who is doing business on behalf of the university, including individuals engaged in work-related travel 
Visitors who fall under the JHU Visitor Policy (e.g., visiting faculty, students, and scholars)
All Johns Hopkins health system employees and providers credentialed by the JHM medical staff, School of Medicine faculty (full or part-time) and staff members, residents, clinical and postdoctoral research fellows, and JHM visiting trainees, faculty and staff should refer to JHM's guidance for more information. APL has its own policies for individuals on its property, but for APL staff members who work, teach, or attend classes at other JHU or JHM campuses, the mandates for each campus apply and can supersede APL guidelines.
Documentation must be submitted to the JHU Vaccine Management System. Affiliates may also submit an exception request in the VMS.  
Exemptions: Fully remote individuals, including staff and online students who are working or studying 100% remotely, are exempt from the vaccination mandate, but they should change their status in Prodensity to indicate that they will not be coming on campus. If plans change and an individual has to come on campus, work on-site, or participate in a JHU-sponsored residency or field study, they must be vaccinated or have an approved exception.
If a new employee, new postdoctoral fellow, or new/transfer student or visiting scholar has not been vaccinated before the first day of employment or activities noted above, there is a six-week grace period to complete the full vaccination process (including both doses of a two-dose vaccine). Proof of vaccination should be uploaded to the VMS as soon as possible after their second shot, and no later than six weeks after the first day of employment.

Any employee, fellow, or student who is not yet fully vaccinated must be tested twice weekly until they are considered fully vaccinated (two weeks after their final dose).
Faculty and staff can take up to two days off to be vaccinated and/or to recover from any side effects. Visit the Human Resources website for additional details.
Exceptions to the vaccination requirement
Exceptions may be granted in limited circumstances for:
Medical or religious reasons (note that the only true contraindications to the COVID-19 vaccine are 1) a severe anaphylactic reaction to a prior dose of one of the mRNA COVID-19 vaccines (requiring the use of epinephrine or EpiPen) or 2) an allergy to a component of the vaccine)
Additionally, the following individuals are exempt:
Employees who are, with permission of their supervisor, working in a fully remote capacity and do not visit any Johns Hopkins worksite
Contractors or vendors whose presence at any JHU property is solely limited to the delivery of goods
Students who are enrolled in entirely online programs and do not utilize Johns Hopkins facilities, and non-degree and non-credit students. (Students who participate in Peabody Preparatory classes and who are 12 years of age and older are required to be vaccinated or seek an exception; more details are available directly from Peabody Preparatory.)
Guests (individuals who are on campus and not subject to the JHU Visitor Policy), which includes those on campus for short periods of time for tours, meetings, and public events
Exception requests were due Aug. 1, 2021.
New employees and new/transfer/visiting students may apply for an exception as soon as they have a JHED ID using the JHU Vaccine Management System (VMS). Additional details on how to request an exception, including required documentation can be found on this website.
Having had COVID-19 in the past is NOT a permissible criterion for an exception.
Vaccination Compliance
Any person covered by the vaccine mandate who fails to provide acceptable vaccination documentation, does not receive an approved exception, and/or has an approved exception but does not comply with testing requirements may be denied access to Johns Hopkins property and electronic resources. Those individuals may also be subject to disciplinary action under the Student Conduct Code or the appropriate procedures applicable to faculty and staff.  
While Prodensity has integrated real-time compliance with symptom screening, vaccination, and testing mandates, compliance is monitored primarily through weekly reports sent to divisional response teams (composed of divisional leadership including HR managers and divisional business officers) and student affairs staff. Real-time compliance using Prodensity passes should only be used in situations where routine screening can be accomplished by authorized JHU personnel – e.g., a security desk for accessing certain JHU facilities or at a check-in desk for certain on-campus events. Unless authorized by University Administration, faculty, staff, and students are not permitted to make any demands to view Prodensity passes of any JHU affiliates or restrict activities based upon this information. If you have a concern or complaint regarding noncompliance of JHU COVID-19 safety measures by a member of the Hopkins community, please make a confidential report immediately via the online form or by calling 844-SPEAK2US (844-773-2528).
Affiliates may submit requests for exceptions to the vaccine requirement through VMS, the same system through which vaccine documents are submitted. Affiliates who receive an exception are required to test twice per week (once per week for School of Medicine affiliates). Affiliates who are granted a vaccine exception and who do not comply with the testing requirements will receive a red campus pass in Prodensity and will not have access to campus.
Getting vaccinated at Hopkins
Johns Hopkins Medicine has established several convenient walk-in clinics in communities across Baltimore and Maryland. The Spot Van at Northeast Market (2101 E. Monument St., Baltimore, MD 21205) operates two mornings per week and is just two blocks from the Bloomberg School of Public Health and School of Nursing.
In addition to any scheduled clinics, all Johns Hopkins affiliates in Maryland and Washington, D.C., can schedule a vaccination appointment through Johns Hopkins Medicine in MyChart. MyChart is a secure website and mobile app used by Johns Hopkins Medicine that can be used to schedule COVID-19 tests and vaccinations. More information is available at hopkinsmedicine.org.
Upcoming second-dose clinics
Individuals who received their first dose of the Pfizer COVID-19 vaccine in August via a Johns Hopkins vaccine clinic should plan to return for their second dose on their specified date. The following second-dose clinics are presently scheduled:
Saturday, Sept. 11: Homewood campus, Shriver Hall auditorium; 9 a.m. to 3 p.m. (flu shots available)
Tuesday, Sept. 14: School of Public Health, Feinstone Room; 11 a.m. to 2 p.m.
Wednesday, Sept. 15: Peabody Institute, Unger Lounge; noon to 3 p.m.
Friday, Sept. 17: Carey Washington, D.C., first floor; 10 a.m. to 2 p.m.
Saturday, Sept. 18: Homewood campus, Shriver Hall auditorium; 9 a.m. to 3 p.m. (flu shots available)
Monday, Sept. 20: Carey Harbor East, second-floor lobby; 9 a.m. to 4 p.m.
Monday, Sept. 20: SAIS Washington, D.C., Kenney Room; 10 a.m. to 4 p.m.
Tuesday, Sept. 21: Homewood campus, Shriver Hall auditorium; 9 a.m. to 3 p.m.
Friday, Sept. 24: SAIS Washington, D.C., Kenney Room; 10 a.m. to 4 p.m.
Frequently Asked Questions
Vaccination mandate – general information
Vaccination mandate – faculty and staff
Vaccination exceptions – faculty and staff
Vaccination mandate – students
Vaccination mandate – international students
Vaccination exceptions – students
How to submit proof of vaccination or request an exception