Universal face coverings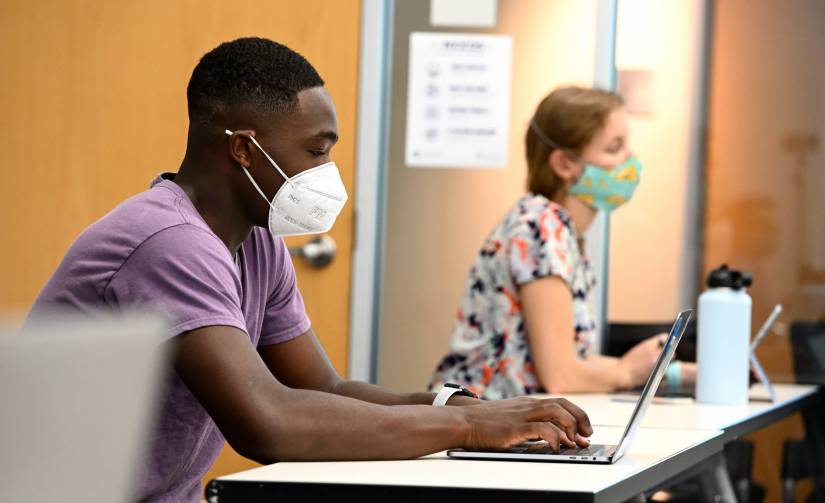 Face coverings must be worn by everyone—including all faculty, staff, students, postdoctoral fellows, other trainees, guests, vendors, and visitors—indoors on campus and in university buildings and in and around leased spaces, on JHU transportation, and in some outdoor settings where individuals are gathered such as athletic events, performances, and the May 27 undergraduate commencement ceremony at Homewood Field. As of April 30, 2021, JHU campuses will no longer require face coverings in most outdoor spaces when 6 feet of distance can be maintained.
Face coverings are worn to protect others in the event someone is unknowingly transmitting the virus. Face coverings have been shown to reduce coronavirus transmission, both for the wearer and for others. However, by themselves face coverings are not 100% effective, and so physical distancing must also be maintained even while using face coverings to minimize the chance of COVID-19 acquisition.
Due to recent studies and in alignment with Johns Hopkins Medicine, the following are not acceptable as face coverings:
Any face covering with an exhalation valve
Neck "gaiter" coverings
Bandanas
Face coverings worn by JHU employees and trainees not engaged in providing medical care should not be medical grade PPE in order to maintain supplies for those engaged in providing medical care.
Cloth face coverings must only be worn for one day at a time and must be properly hand washed or laundered before subsequent use. At minimum, cloth face coverings should:
Fit snugly but comfortably against the side of the face
Be secured (e.g., with ties or ear loops)
Cover the nose and mouth and allow for breathing without restriction
Be able to be laundered without damage or change to shape
Heath, Safety and Environment staff have the authority to determine if face coverings comply with minimum standards. Individuals who wish to seek an accommodation for the face covering requirement should engage with the Office of Institutional Equity (OIE) about the process.
Exceptions to the requirement for universal face coverings indoors are:
Limited to time spent in a single-occupancy office with a closed door
While eating or drinking at a physical distance of at least six feet from any other person
In specific situations described in the Guidance for Use of Campus Facilities section of the Return to Campus Guidance
Use and care of face coverings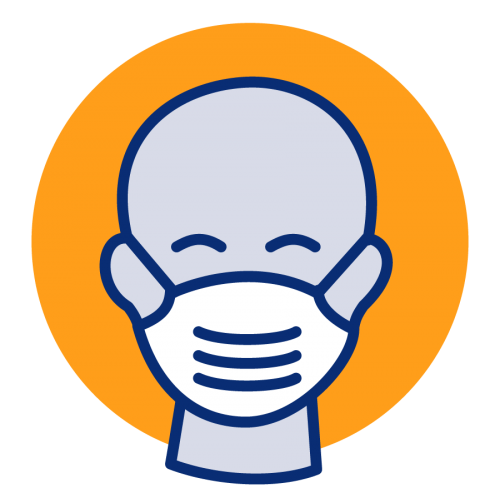 When putting on a face covering/disposable mask, people should:
Wash hands or use hand sanitizer prior to handling the face covering/disposable mask
Ensure the face covering/disposable mask fits over the nose and under the chin
Situate the face covering/disposable mask properly with nose wire snug against the nose (where applicable)
Tie straps behind the head and neck or loop around the ears
Throughout the process: Avoid touching the front of the face covering/disposable mask. Try to avoid adjusting the mask during the day and wash hands/use sanitizer after any adjustments.
When taking off a face covering/disposable mask, people should:
Avoid touching their eyes, nose, or mouth
Loop their finger into the strap and pull the strap away from the ear, or untie the straps.
Wash hands immediately after removing.
Care, storage and laundering:
People should keep face coverings/disposable mask stored in a paper bag when not in use.
Cloth face coverings may not be used more than one day at a time and must be washed after use. Cloth face coverings should be hand washed or laundered with regular soap or clothing detergent before first use and after each use.
Cloth face coverings should be replaced immediately if soiled, damaged (e.g. ripped, punctured), or visibly contaminated.
Disposable masks must not be used for more than one day and should be placed in the trash after use or if they are soiled or damaged (e.g., stretched ear loops, torn or punctured material), or visibly contaminated.
Smoking and Vaping
Smoking and vaping are prohibited on all university campuses and properties for the duration of the pandemic in order to ensure universal face coverings and avoid the known negative effects on individuals with COVID-19. The Human Resources Department has information on smoking cessation support programs for employees on its website. Students can take advantage of the state of Maryland's smoking cessation program, accessible online at https://mdquit.org/quitline.
Physical Distancing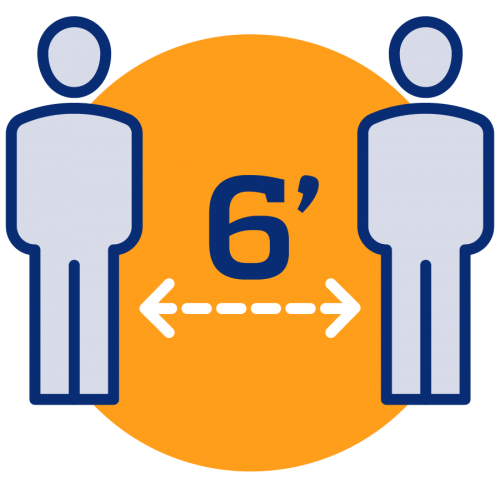 Keeping space between yourself and others is one of the best tools we have to avoid being exposed to the COVID-19 virus and to slow its spread. Since people can spread the virus before they know they are sick, it is important that they stay away from others when possible, even if they have no symptoms.
Physical distancing is important for everyone—and required by the university—especially to help protect people who are at higher risk of getting very sick. Everyone on campus is expected to follow social distancing practices. They should:
Stay at least 6 feet (about 2 arms length) from other people whenever possible
Not gather in groups
Stay out of crowded places and avoid large gatherings
Engage in noncontact methods of greetings that avoid handshakes
Stagger breaks and meal times during the day
Use designated areas and maintain at least 6 feet of separation for meals
Handwashing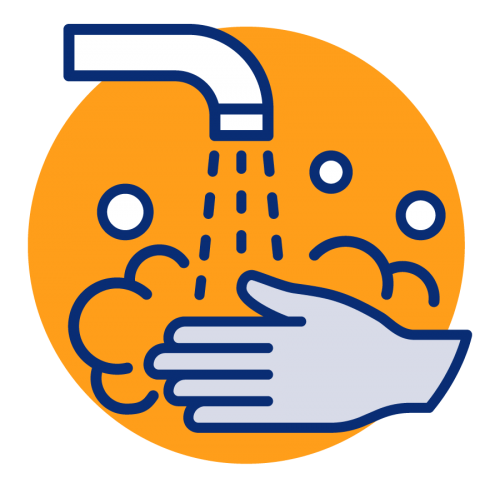 Everyone should wash their hands often with soap and warm water for at least 20 seconds, especially after they have been in a public place or after blowing their nose, coughing, sneezing, or touching their face. It is also suggested that everyone wash their hands as they enter and leave various on-campus spaces and before eating. People should also avoid touching their eyes, nose, and mouth.
If soap and water are not readily available, people can use a hand sanitizer that contains at least 60% alcohol. They should cover all surfaces of their hands and rub them together until they feel dry.
Personal protective equipment
Gloves
Health care workers and others in high-risk areas should use gloves as part of PPE, but according to the CDC, gloves are not necessary for general use and do not replace good hand hygiene.
If a task or on campus area DID NOT require gloves prior to the pandemic, gloves are not required now.
If a task or on campus area (e.g. laboratory) required a specific type of gloves as PPE prior to the pandemic, those requirements remain in place. Lab gloves should not be worn in common areas.
Washing hands often is considered the best practice for common everyday tasks.
Goggles + face shields
The university is monitoring evolving guidance related to the use of face shields and may provide them where advisable. JHU affiliates do not need to wear goggles or face shields as part of general activity on campus. Laboratories may require specific PPE, and those guidelines must be followed. Good hand hygiene and avoiding touching the face are generally sufficient for non-health care environments.
Other PPE
All other types of personal protective equipment (PPE) required for a specific task or specific on campus area (e.g. laboratory) should not be altered or substituted due to the pandemic without consultation with the Office of Healthy Safety and Environment (HSE). For labs, rules remain in effect to remove all PPE prior to leaving the lab.
Coughing + sneezing hygiene
Those in a private setting who do not have a cloth face covering on should remember to always cover their mouth and nose with a tissue when they cough or sneeze or use the inside of their elbow. Then throw used tissues in the trash. After sneezing, individuals should immediately wash their hands with soap and water for at least 20 seconds. If soap and water are not readily available, they should clean their hands with a hand sanitizer that contains at least 60% alcohol.
If a person has been sneezing/coughing into the cloth mask and it becomes contaminated with mucus, they should change the mask and launder it.
Cleaning
Custodial crews will clean common areas, lobbies, restrooms, classrooms, and conference rooms daily based on CDC guidance. Several times daily, custodians will provide additional cleaning of high-touch points (stairwell and room door handles, elevator buttons, etc.).
Individual affiliates will be expected to clean areas of tables, surfaces, or labs with which they made contact and wipe down personal workspaces. Before starting activity in a space, and before leaving any room in which they have been working, individuals must wipe down all areas with cleaning agent. This includes any shared-space location or equipment (e.g. copiers, printers, computers, A/V and other electrical equipment, coffee makers, desks and tables, conference tables, light switches, door knobs, etc.).
People should avoid using other affiliates' phones, desks, offices, or other tools and equipment and should clean and disinfect them before and after use. Options include but are not limited to:
Bleach solution containing at least 1,000 ppm sodium hypochlorite
70% ethanol or isopropyl alcohol
Quaternary ammonium disinfectant provided by EVS/Custodial Services
Follow label directions for safe and effective use.