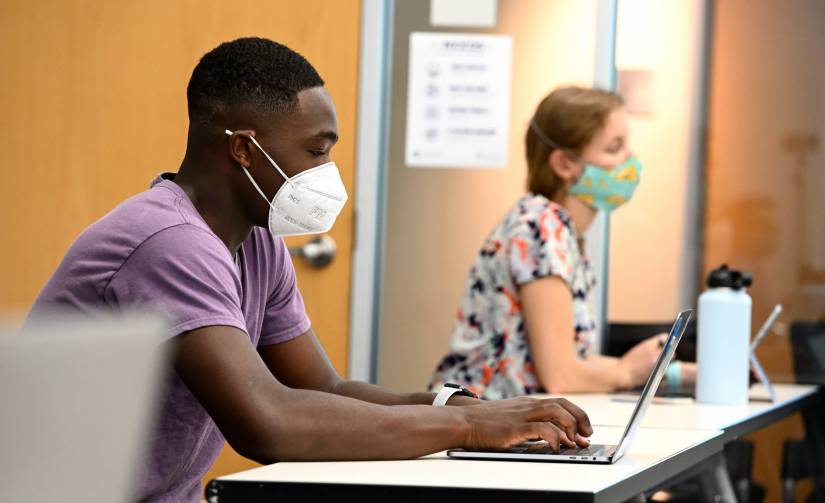 Given the rise in COVID-19 cases in Maryland associated with the delta variant, Johns Hopkins University has reinstate its mandate that all individuals, regardless of vaccination status, wear masks indoors, effective Thursday, Aug. 5. Restrictions on indoor eating have also been reinstated.
The Centers for Disease Control and Prevention has recommended a resumption of masking, even for those who have been vaccinated, in communities where the incidence of COVID exceeds 50 or more new cases per 100,000 people or where the positivity rate is greater than 8% during a seven-day period, and Maryland has now crossed that threshold. We are hopeful that this increase in cases will abate in the coming weeks, but our cautious approach to protecting our campus community and our Baltimore neighbors warrants this added precaution.
Face coverings
Face coverings are worn to protect others in the event someone is unknowingly transmitting the virus. Face coverings have been shown to reduce coronavirus transmission, both for the wearer and for others.
Cloth face coverings must only be worn for one day at a time and must be properly hand washed or laundered before subsequent use. At minimum, cloth face coverings should:
Fit snugly but comfortably against the side of the face
Be secured (e.g., with ties or ear loops)
Cover the nose and mouth and allow for breathing without restriction
Be able to be laundered without damage or change to shape
The following are not acceptable as face coverings:
Any face covering with an exhalation valve
Neck "gaiter" coverings
Bandanas
Face shields
Exceptions to the requirement for universal face coverings indoors are:
In single-occupancy offices with the door closed
In residence hall dorm rooms/suites/apartments, only with roommates
The Baltimore City mask mandate provides an exception when eating. Anywhere on campus, momentary unmasking for drinks/snacks remains permitted. We are permitting meals outdoors without distancing/masking restrictions and in indoor spaces where a 6-foot distance from other people can be consistently maintained. Eating in cubicles and shared offices with 6-foot distancing is, therefore, permitted, but masks are required when not eating. Facilities staff are working on establishing areas across campus for de-densified dining.
Vaccination
Vaccination remains the most important step you can take to keep yourself and your family safe. While recent data suggests that the delta variant can be transmitted by and among people who have been vaccinated, the COVID vaccines remain remarkably effective against preventing severe illness and hospitalization. Johns Hopkins University has required all faculty, staff, and students to have documented their full vaccination or to have applied for an exception on medical, religious, or pregnancy grounds as of Aug. 1, and more than 80% have done so—exceeding the general population. Our goal remains to reach as close as possible to 100% vaccination within our community, and we will follow up with those who have not yet documented their vaccination.
Smoking and Vaping
Smoking and vaping are prohibited on all university campuses and properties for the duration of the pandemic in order to ensure universal face coverings and avoid the known negative effects on individuals with COVID-19. The Human Resources Department has information on smoking cessation support programs for employees on its website. Students can take advantage of the state of Maryland's smoking cessation program, accessible online at https://mdquit.org/quitline.
Handwashing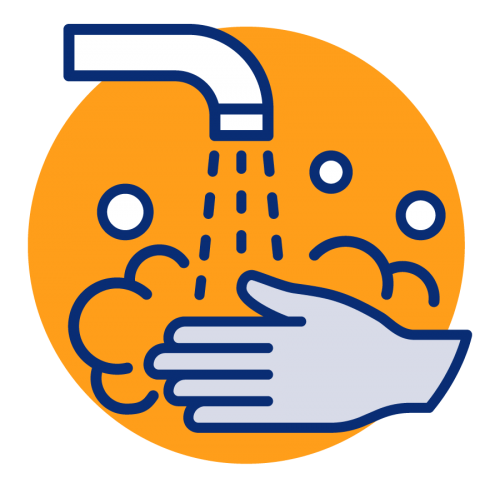 Everyone should wash their hands often with soap and warm water for at least 20 seconds, especially after they have been in a public place or after blowing their nose, coughing, sneezing, or touching their face. It is also suggested that everyone wash their hands as they enter and leave various on-campus spaces and before eating. People should also avoid touching their eyes, nose, and mouth.
If soap and water are not readily available, people can use a hand sanitizer that contains at least 60% alcohol. They should cover all surfaces of their hands and rub them together until they feel dry.
Frequently Asked Questions
Can you receive the flu vaccine and the COVID vaccine on the same day?

Yes.

Last updated: June 22, 2021 12:16pm
Can you receive vaccines other than the flu vaccine on the same day as the COVID vaccine?

No vaccines other than the flu vaccine should be given during the time period of two weeks prior to the first COVID vaccine through two weeks following the final COVID vaccine.

Last updated: June 4, 2021 11:15am
How long after a natural COVID infection should you wait before getting the vaccine?

In most cases, you should wait until you are out of isolation (all COVID symptoms have resolved) to get the vaccine, but no longer than 90 days. If you were treated with monoclonal antibodies and/or convalescent plasma, you should wait 90 days before getting the vaccine. Affiliates may request a medical exception to wait to get the vaccine until the 90 days has elapsed.

Last updated: June 22, 2021 12:16pm
Where can I get more information about COVID vaccine safety and effectiveness?

We have a tremendous amount of information and support available for those who have questions about the vaccine or want to learn more. JHM has compiled a set of resources on Covid vaccine effectiveness and safety and what to expect when getting vaccinated. JHU's Coronavirus Resource Center has extensive information about how the vaccines were developed and tested, as well as data on their distribution in the U.S. and internationally. 

Last updated: June 22, 2021 12:17pm
How can I be sure that the facilities are ready to receive everyone back at the same time?

Divisional business officers, HR managers, IT managers, and others have worked to ensure that facilities will be open and ready for staff and faculty to return, and will be communicating plans to unit leaders. If you have specific questions, please contact your supervisor or HR manager.

Last updated: June 22, 2021 12:21pm
Where will I eat safely?

Momentary unmasking for consuming drinks/snacks is permitted in all indoor settings.

Longer meals can be consumed where six-foot distancing is maintained from any other person. This includes in shared office locations. Across the university, designated meal areas with distanced seating will be established.

Last updated: Aug 9, 2021 4:28pm
If I am sitting in an office with the door open, am I required to wear a mask?

Yes

Last updated: Sep 3, 2021 1:32pm
I feel ill or am concerned about exposure to the SARS-CoV-2 virus. What should I do?

All Johns Hopkins affiliates (students, trainees, staff, and faculty) are strongly encouraged to use Johns Hopkins resources when symptomatic or concerned about exposure. Anyone who feels ill or is concerned about exposure is encouraged to call the Johns Hopkins COVID-19 Call Center at 833-546-7546, seven days a week, between 7 a.m. and 7 p.m. The call center is staffed by Johns Hopkins nurses and physicians and specially trained nursing and medical students. When you call, a representative will instruct you about next steps depending on your circumstances. They will arrange for testing if needed, assist in transmitting information to Occupational Health, and conduct contact notification. Further, the caller will be given instructions regarding quarantine before a test can be secured. The criteria for testing are updated on a regular basis, and the most current criteria will be used when there is an assessment over the phone.

As has always been the case, individuals who have symptoms of COVID-19 or have tested positive for infection with SARS-CoV-2 should self-isolate at home except to get medical care until it's safe to be around others.

Last updated: Dec 16, 2020 3:38pm
What are the current distancing requirements?

Physical distancing requirements have been lifted indoors and outdoors, including in elevators and bathrooms, except for in dining facilities. The recent Baltimore City order for masking has an exception for eating and drinking. We have added the requirement, consistent with CDC's guidance, that individuals who are eating (and therefore unmasked) remain six feet apart from others.

Capacity restrictions have also been lifted on buses and shuttle vans.

Last updated: Aug 9, 2021 4:29pm
What is being done about air ventilation in buildings in light of the danger of airborne transmission?

Following CDC and ASHRAE guidance, JH Facilities assessed and improved building ventilation where possible—the number of air exchanges per hour, filtration,  and amount of fresh air intake. Facilities is also performing preventative maintenance checks to ensure filters have been changed and that systems are working properly.  

Last updated: June 25, 2021 12:45pm