Face coverings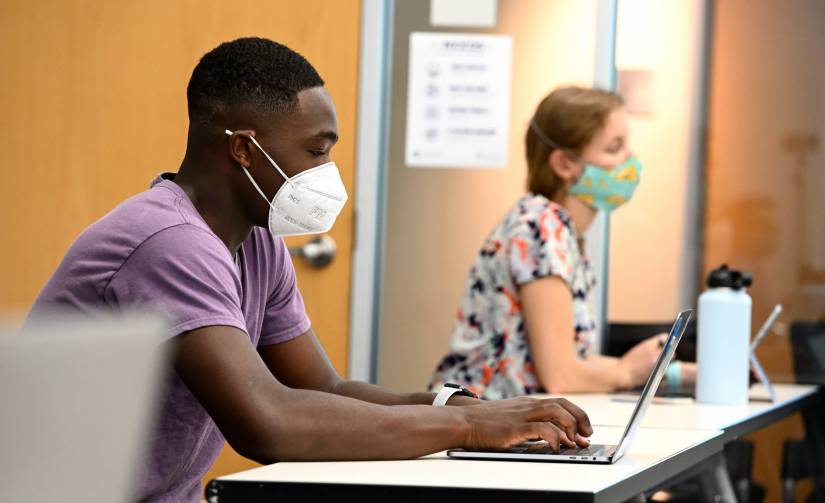 Based on guidance from CDC and our own experts, the low prevalence of new COVID cases in the region, and changes to city and state requirements, as of July 1, those who have documented via the JHU vaccine registry that they are fully vaccinated will no longer be required to wear a mask, indoors or outdoors, on campus.
After the state of Maryland and Baltimore City eliminated their masking requirements, the university consulted with its own public health experts, the University Pandemic Academic Advisory Committee, and others, and determined that we can also safely drop our masking requirement for vaccinated individuals.
As soon as you receive email confirmation that your documentation has been successfully uploaded, you will no longer be required to wear a mask, indoors or outdoors, on Johns Hopkins property. Vaccinated persons who have registered their documentation also may eat or drink in proximity to others without regard to physical distancing. Those who have been granted exceptions from the vaccination mandate will still be required to wear masks indoors, to be regularly tested for COVID, and to only eat on campus when distanced from others.
While it is safe for those who have been fully vaccinated to go without masks, we know that many people will choose to continue wearing them, and we expect all members of the community to be respectful of that decision. Face coverings are worn to protect others in the event someone is unknowingly transmitting the virus. Face coverings have been shown to reduce coronavirus transmission, both for the wearer and for others.
Vaccination
Ensuring that the overwhelming percentage of our community's population is vaccinated will greatly reduce the risk of the virus's spread on our campuses and will also protect our neighbors in Baltimore. As of Aug. 1, COVID-19 vaccination will be required for all faculty, staff, postdoctoral fellows, and undergraduate and graduate students who will be working or studying at a Johns Hopkins campus or worksite in the U.S.
All Johns Hopkins affiliates who are required to be vaccinated—and who were not vaccinated at a Johns Hopkins Medicine facility—must upload their COVID-19 vaccination record to the JHU Vaccine Management System. Affiliates may also submit an exception request in the VMS.
Smoking and Vaping
Smoking and vaping are prohibited on all university campuses and properties for the duration of the pandemic in order to ensure universal face coverings and avoid the known negative effects on individuals with COVID-19. The Human Resources Department has information on smoking cessation support programs for employees on its website. Students can take advantage of the state of Maryland's smoking cessation program, accessible online at https://mdquit.org/quitline.
Handwashing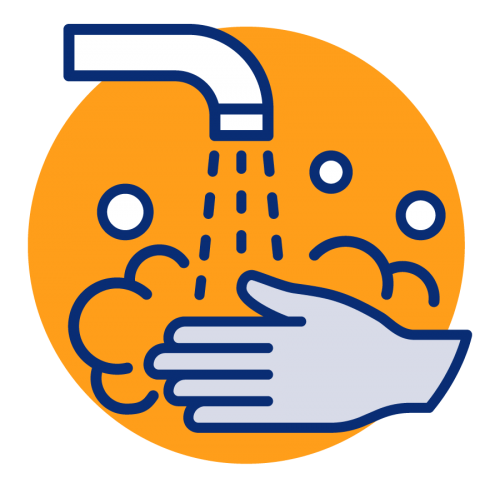 Everyone should wash their hands often with soap and warm water for at least 20 seconds, especially after they have been in a public place or after blowing their nose, coughing, sneezing, or touching their face. It is also suggested that everyone wash their hands as they enter and leave various on-campus spaces and before eating. People should also avoid touching their eyes, nose, and mouth.
If soap and water are not readily available, people can use a hand sanitizer that contains at least 60% alcohol. They should cover all surfaces of their hands and rub them together until they feel dry.
Frequently Asked Questions
Can you receive the flu vaccine and the COVID vaccine on the same day?

Yes.

Last updated: June 22, 2021 12:16pm
Can you receive vaccines other than the flu vaccine on the same day as the COVID vaccine?

No vaccines other than the flu vaccine should be given during the time period of two weeks prior to the first COVID vaccine through two weeks following the final COVID vaccine.

Last updated: June 4, 2021 11:15am
How long after a natural COVID infection should you wait before getting the vaccine?

In most cases, you should wait until you are out of isolation (all COVID symptoms have resolved) to get the vaccine, but no longer than 90 days. If you were treated with monoclonal antibodies and/or convalescent plasma, you should wait 90 days before getting the vaccine. Affiliates may request a medical exception to wait to get the vaccine until the 90 days has elapsed.

Last updated: June 22, 2021 12:16pm
Where can I get more information about COVID vaccine safety and effectiveness?

We have a tremendous amount of information and support available for those who have questions about the vaccine or want to learn more. JHM has compiled a set of resources on Covid vaccine effectiveness and safety and what to expect when getting vaccinated. JHU's Coronavirus Resource Center has extensive information about how the vaccines were developed and tested, as well as data on their distribution in the U.S. and internationally. 

Last updated: June 22, 2021 12:17pm
How can I be sure that the facilities are ready to receive everyone back at the same time?

Divisional business officers, HR managers, IT managers, and others have worked to ensure that facilities will be open and ready for staff and faculty to return, and will be communicating plans to unit leaders. If you have specific questions, please contact your supervisor or HR manager.

Last updated: June 22, 2021 12:21pm
Where will I eat safely?

Spaces for eating will be available both in undistanced format (for those who are vaccinated) and distanced format (open to all and required for those who are unvaccinated).

Last updated: June 22, 2021 12:21pm
I feel ill or am concerned about exposure to the SARS-CoV-2 virus. What should I do?

All Johns Hopkins affiliates (students, trainees, staff, and faculty) are strongly encouraged to use Johns Hopkins resources when symptomatic or concerned about exposure. Anyone who feels ill or is concerned about exposure is encouraged to call the Johns Hopkins COVID-19 Call Center at 833-546-7546, seven days a week, between 7 a.m. and 7 p.m. The call center is staffed by Johns Hopkins nurses and physicians and specially trained nursing and medical students. When you call, a representative will instruct you about next steps depending on your circumstances. They will arrange for testing if needed, assist in transmitting information to Occupational Health, and conduct contact notification. Further, the caller will be given instructions regarding quarantine before a test can be secured. The criteria for testing are updated on a regular basis, and the most current criteria will be used when there is an assessment over the phone.

As has always been the case, individuals who have symptoms of COVID-19 or have tested positive for infection with SARS-CoV-2 should self-isolate at home except to get medical care until it's safe to be around others.

Last updated: Dec 16, 2020 3:38pm
Why are residential undergraduates required to test even if they have been vaccinated?

Our testing policies are informed by the most successful practices that have emerged from our peer institutions and from emerging data about the pandemic.  

Undergraduates, because they typically live in congregate settings, tend to be at higher risk of contracting COVID, and of spreading it to a larger number of people, making early detection of asymptomatic cases particularly important in this group. As such, testing is an additional measure of protection for our community. 

Last updated: June 22, 2021 2:25pm
What are the current distancing requirements?

Physical distancing requirements have been lifted indoors and outdoors, including in elevators and bathrooms. Capacity restrictions have also been lifted on buses and shuttle vans.

Physical distancing is required for unvaccinated affiliates when eating indoors (in addition to the masking and testing requirements outlined on this website). Spaces for eating will be available both in distanced and undistanced formats.

Last updated: July 20, 2021 10:05am
What is being done about air ventilation in buildings in light of the danger of airborne transmission?

Following CDC and ASHRAE guidance, JH Facilities assessed and improved building ventilation where possible—the number of air exchanges per hour, filtration,  and amount of fresh air intake. Facilities is also performing preventative maintenance checks to ensure filters have been changed and that systems are working properly.  

Last updated: June 25, 2021 12:45pm