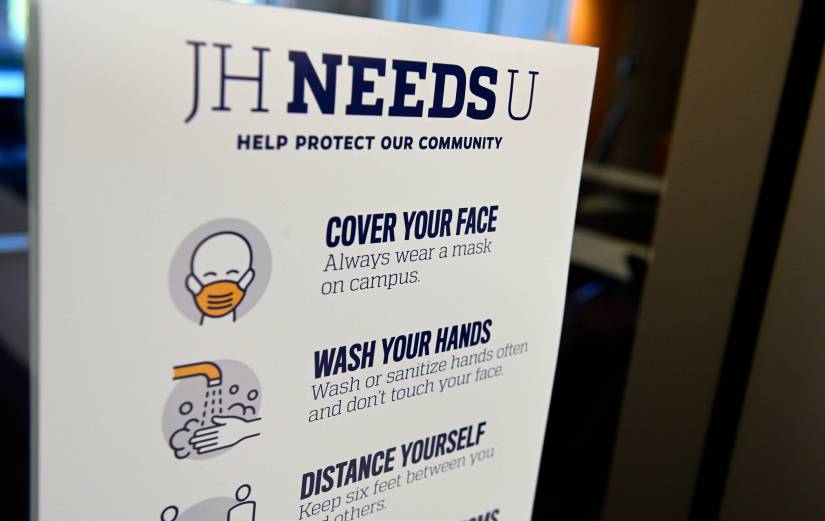 Your health and the health of our community is our primary concern. Our collective safety requires everyone to consistently follow best practices for preventing the spread of COVID-19—wearing face coverings, maintaining physical distancing, following proper hygiene, and reporting any symptoms.
Anyone who feels ill or is concerned about exposure is encouraged to call the Johns Hopkins COVID-19 Call Center at 833-546-7546, seven days a week, between 7 a.m. and 7 p.m. Employees should also use the call center (not Occupational Health) if you need clearance to return to work after being tested or recovering from COVID-19.
The call center is staffed by Johns Hopkins nurses and physicians and specially trained nursing and medical students. When you call, a representative will instruct you about next steps depending on your circumstances. They will arrange for testing if needed and assist in transmitting information to Occupational Health.
"We are working … to build a fall experience that maximizes, to the extent possible, the inherent benefits of our traditional togetherness with the expectations of continued COVID-19 disruptions."

Stephen Gange, executive vice provost and professor of epidemiology
Note: All members of the university community are expected to fully comply with the policies, protocols, and guidelines outlined in the university's Return to Campus Guide. Noncompliance with COVID-19 campus health and safety guidelines could result in loss of access to university facilities as well as corrective and/or disciplinary action.
Frequently Asked Questions
Will everyone be required to wear masks while at JHU locations?

Everyone must wear face coverings (including all faculty, staff, students, postdoctoral fellows, other trainees, guests, vendors, and visitors) indoors and outdoors, on campus and in university buildings, and in and around leased spaces, except when in a single-occupancy office with a closed door or while eating or drinking at least six feet away from others.

Exceptions to the requirement to wear face coverings outdoors will be made for individuals whose employment requires they work outside full time (e.g security, some facilities staff, etc.). They will need to wear face coverings when interacting with the public or when unable to practice social distancing.

The university will provide face coverings for JHU affiliates, who may also elect to use their own face coverings. Face coverings should be non-medical types in order to maintain supplies for health care use. Cloth face coverings must only be worn for one day at a time, and must be properly hand washed or laundered before subsequent use. They must at a minimum fit snugly but comfortably against the side of the face, be secured (e.g., with ties or ear loops), cover the nose and mouth, allow for breathing without restriction, and be able to be laundered without damage or change to shape.

Last updated: June 22, 2020 8:14pm
Will the university test each person who comes to a JHU location and trace contacts for anyone who tests positive?

At this time, widespread screening of everyone who comes on site is not in place and currently is not planned. We are evaluating options for testing students who will be residents of university-sponsored housing.

For individuals with symptoms, however, testing is free and available. Specifically, employees and students who report symptoms consistent with COVID-19 and meets CDC and Hopkins Infectious Control criteria will be screened by the appropriate call center and referred for testing if they meet current criteria. A health care worker will contact each individual who tests positive to provide guidance regarding self-isolation, monitoring of symptoms, and general health advice. Those individuals will also be asked a series of questions as part of our contact tracing process to help determine if others may have been exposed in the workplace/learning environment.

Testing techniques, uses, and limitations are discussed further in the Draft Recommendations for COVID-19 Screening, Testing, and Tracing, along with the university's approach to phased implementation of testing and contact tracing activities.

Last updated: June 30, 2020 9:48am
Are you considering technology for doing contact tracing or enforcing physical distancing?

University workgroups are studying technology options to support health and safety while considering a wide range of associated efficacy, privacy, and implementation issues. No decisions have been made, and any plans to adopt new technologies will be shared with the community and open to feedback.

Last updated: June 26, 2020 3:01pm
Is the university providing access to adequate, appropriate PPE?

The university will provide faculty, staff, and students with two reusable cloth face coverings appropriate for meeting the masking requirements for its campuses. More substantial PPE will be provided in situations where the work of the laboratory called for that level of PPE before the COVID-19 outbreak, or where strict physical distancing requirements cannot be met (e.g., equipment requires two persons for safe usage).

Last updated: June 30, 2020 8:56am
What is the plan to clean university buildings, especially those with high traffic?

Custodial crews will clean common areas, lobbies, restrooms, classrooms, and conference rooms daily based on CDC guidance. Several times daily, custodians will provide additional cleaning of high touch points (stairwell and room door handles, elevator buttons, etc.).

Individual affiliates will be expected to clean tables, surfaces, or labs with which they make contact and wipe down personal workspaces. Before starting activity in a space and before leaving any room in which they have been working, individuals must wipe down all areas with a cleaning agent. This includes any shared-space location or equipment (e.g. copiers, printers, computers, A/V and other electrical equipment, coffee makers, desks and tables, conference tables, light switches, door knobs, etc.). People should avoid using other affiliates' phones, desks, offices, or other tools and equipment and should clean and disinfect them before and after use.

Last updated: June 19, 2020 10:06am
What is the plan for safe use of elevators?

A university workgroup, in consultation with the faculty Health Advisory Group, determined that occupancy in elevators should be limited to four and that individuals should wear face coverings and press elevator buttons with another object (knuckle, elbow, etc.) if possible. Everyone should wash hands or use hand sanitizer with at least 60% alcohol upon departing the elevator.

Last updated: June 19, 2020 10:53am
What is being done about air ventilation in buildings in light of the danger of airborne transmission?

The ventilation—the number of air exchanges per hour and amount of fresh air intake—in each building is being reassessed and increased when appropriate. Facilities is also performing preventative maintenance checks to ensure filters have been changed and that systems are working properly.

Last updated: June 19, 2020 10:57am
Will Hopkins buses and shuttles observe safety guidance?

Everyone who takes public transportation or uses JH buses and shuttles must wear a face covering. Vehicle capacity will be set to limit density and in consultation with public health experts and regulatory guidance. The current limits are set at 24 passengers per JH bus and one rider group (single request) per van with a limit of eight passengers. For buses, passengers will be asked to enter via rear door only. Buses and Blue Jay Shuttle vans are cleaned after each driver's shift using HSE-approved, hospital-grade products and high touch points are cleaned several times a shift by each driver.

Last updated: June 19, 2020 10:58am
How will the university enforce safety measures in bathrooms?

Individuals are asked to take responsibility for respecting social distancing while using restrooms. Hand dryers will be disconnected and paper towels provided. Education and awareness signage regarding hand hygiene will be provided.

Last updated: June 19, 2020 11:06am
Will there be restrictions related to whether individuals who have traveled outside the area, or the country, can come to JHU locations?

There are no such restrictions for travelers at this time, but the university will be subject to any future such federal, state, or local restrictions. Students returning to campus for instruction in the fall will need to be aware of any restrictions at that time related to where they are traveling from, and they may be asked to quarantine upon arrival if government regulations dictate.

Last updated: June 27, 2020 9:48pm
Who pays for COVID-19 tests, particularly if people need multiple tests after resuming activities on campus?

There is no cost to the individual being tested.  Since the passage of the Families First Coronavirus Response Act (FFCRA) on March 18, all forms of public and private insurance, including self-funded plans, must now cover FDA-approved COVID-19 tests and costs associated with testing with no cost-sharing.

Last updated: June 22, 2020 4:39pm
Lab safety
What safety precautions are in place for on-campus research activity?

Our current Phase 1 guidance outlines a number of safety guidelines including:

There are maximum occupancy rates for each designated space.
Researchers can expect to return at significantly decreased density compared with normal operations, and research teams may need to stagger work schedules/shifts to limit density.
Face coverings are required to be worn at all times indoors and outdoors, unless inside a single-occupancy office with a closed door or eating at an appropriate distance from other people.
Each lab must work with its school's facilities team to develop a plan for regular cleaning and disinfecting of laboratory space.
Schools must provide specific guidance on the use/limits on common spaces and shared instrumentation, based on guidance from the University and HSE.

Last updated: July 23, 2020 1:57pm
How are safety protocols applied across so many different kinds of research spaces and specific program requirements?

JHU's Phase 1 lab readiness is based on a PI-driven approach, with school and university oversight. PIs are the most knowledgeable about the details of their research space, workflow, personnel, shared instrumentation, and program priorities.

Every laboratory must have an approved reopening plan as well as a shut-down plan (in the event of increased infection rates and/or as dictated by public health or government guidance/mandate) in place before resuming on-campus work. Approval of reopening plans developed by PIs occurs at the department level first and then the relevant dean's office. While the specifics about how particular labs will achieve compliance with central safety guidance will be left to PIs, adherence to safety requirements is a requirement for labs to be permitted to continue on-campus work, and personnel are provided easy means for reporting violations.

Last updated: June 27, 2020 10:42pm
What is the requirement for distancing in research labs?

The university originally set its requirement at 400 square feet per individual in a laboratory. As of July 22, individual PIs may present a higher occupancy plan to their respective school administration responsible for reviewing such plans and make a case for why a higher occupancy level is both safe and needed. One basis, but not the only basis, for a higher occupancy level would be to bring the occupancy of a laboratory up to 50% of pre-COVID levels. Typical occupancy levels would be one person per 300 square feet and occupancy should not exceed one person per 200 square feet.

Last updated: July 23, 2020 9:40am
Is the university providing access to adequate, appropriate PPE?

The university will provide faculty, staff, and students with two reusable cloth face coverings appropriate for meeting the masking requirements for its campuses. More substantial PPE will be provided in situations where the work of the laboratory called for that level of PPE before the COVID-19 outbreak, or where strict physical distancing requirements cannot be met (e.g., equipment requires two persons for safe usage).

Last updated: June 30, 2020 8:56am
How does the university learn if an employee or student working in a lab tests positive for COVID-19?

All students, faculty, and staff who are participating in on-campus activities should monitor themselves daily for any symptoms. Anyone who has symptoms associated with COVID-19 or who has concerns about exposure to COVID-19 is strongly encouraged to call the the Johns Hopkins COVID Call Center, or JHCCC, at 883-546-7546 to be triaged to determine if they meet the criteria for testing. In the case of employees, their supervisor will be informed that the employee is "off-duty" until cleared. In the case of students, their school's Student Affairs representative will be notified that the student is "off-duty." The student's name will be shared with the student's consent.

The JHCCC will inform you of your test result if you are tested at a Johns Hopkins facility. If your test is negative, your supervisor or Student Affairs Representative will receive a message that you have been cleared. If you test positive, you will remain "off-duty" and there will be no additional communication to your supervisor or Student Affairs representative until you are cleared. You are encouraged but not required to share the information with your supervisor or Student Affairs representative.

Last updated: July 23, 2020 2:00pm
How do I get cleared to go back to work or class after I recover from COVID-19?

Current CDC guidelines allow for anyone who is not severely immunocompromised to return to work if they meet the following criteria:

At least 10 days have passed since symptom onset or asymptomatic testing
At least 24 hours have passed since last fever without using fever-reducing medications
Symptoms have improved.

Employees who believe they have met this criteria should call the Occupational Health Services at the Johns Hopkins COVID Call Center (410-614-6000) for an evaluation and clearance to return to work. Individuals who were first notified of the employee's "off-duty" status will be informed by OHS that they are cleared to "return to duty."

Students who need clearance to return to class should be instructed to do the following:

Students from the schools of Medicine, Public Health, and Nursing should contact University Health Services at 410-955-3250 for an evaluation and clearance to return to class. Individuals who were first notified of the student's "off-duty" status will be informed by UHS that they are cleared to "return to class."
Students of any other JHU school should contact the Student Health and Wellness Center at 410-516-8270 for an evaluation and clearance to return to class. Individuals who were first notified of the student's "off-duty" status will be informed by SHWC that they are cleared to "return to class."

Last updated: July 23, 2020 9:10pm
If someone in a lab tests positive for COVID-19, will the PI be informed?

Due to privacy concerns, a lab's principal investigator will not necessarily be notified of a lab member's positive COVID-19 diagnosis. PIs will be notified if a lab member is placed "off-duty" at the time of testing. In the case of students, the Student Affairs representative will notify the PI.

In some cases, the Johns Hopkins COVID Call Center may need to disclose the name of the lab member who tested positive to a PI, or designated lab member, who can identify any lab members with whom the individual has had high-risk close contact as part of a contact investigation. In limited cases, disclosure may also be necessary to a PI, or designated lab member, who can identify areas of concern for cleaning purposes. A JHCCC representative will inform anyone who had close contact with the individual who has tested positive, request they quarantine, and refer them for testing as appropriate.

In general, we will not broadly notify affiliates of COVID-positive individuals on-campus. The only possible exception is when we identify clusters or patterns where notification of the broader groups of which the COVID-positive individuals are members may be helpful. In such cases, we will want to assess the setups in case they are not controlling transmission adequately.

Last updated: July 23, 2020 1:11pm
Should a PI notify the rest of their lab that someone in the lab tested positive for COVID-19?

No. Information regarding an individual's positive COVID-19 diagnosis should not be shared with anyone else—that information is confidential health information.

If the individual who tests positive for COVID-19 tells a PI of their diagnosis, the PI must not disclose the name of the individual who tested positive, except to report the individual's diagnosis to the Johns Hopkins COVID Call Center so a contact investigation process can be initiated.

PIs can share that a lab member is "off-duty."

Last updated: July 27, 2020 2:18pm
Under what circumstances will JHU conduct a contact investigation?

Contact investigations will be used to trace any JHU affiliates who have high-risk contacts of an individual who tested positive for COVID-19. This includes individuals whose contact with the possibly infected person was within six feet for 15 minutes or more.

A Johns Hopkins COVID Call Center ICAN (Investigation, Contact Analysis, Notification) team traces the infectious period, currently defined as two days prior to the onset of initial symptoms in symptomatic patients and two days prior to a positive COVID test result date for asymptomatic cases. High-risk close contacts will be notified of their exposure, asked to quarantine to prevent additional transmission, and monitored for symptoms through Occupational Health (employees) or Student Health (students).

Last updated: July 23, 2020 1:41pm
If a COVID-19 positive case is reported in the lab or classroom, will all the people who shared that space at the same time be tested?

Not necessarily. Criteria for testing is continuing to evolve. However, individuals will only be tested if they have symptoms associated with COVID-19 or it is determined by the Johns Hopkins COVID Call Center that there was meaningful exposure. This includes individuals whose contact with the possibly infected person was within six feet for 15 minutes or more during the infectious period.

Last updated: July 29, 2020 10:16am
Will a lab be closed if someone in the lab tests positive for COVID-19?

No. Due to the fact that large droplets readily settle out of the air, and there are a high number of air exchanges in a lab, you can safely enter the lab without enhanced respiratory protection (fit-tested N95 mask or PAPR) within three hours of the time a COVID-positive individual was last in the lab. Lab personnel should perform their standard cleaning and disinfection procedures in the lab wearing standard PPE.

If the principal investigator has questions or concerns about cleaning protocols or about when they can re-enter the lab, contact the Department of Health, Safety and Environment for assistance (Homewood: 410-516-8798; East Baltimore: 410-955-5918). If HSE determines that additional disinfection is required, EVS/Custodial Services or an outside contractor may perform that service, under the on-site supervision of the PI (or their designee).

More information is available in the Return to Research guidance.

Last updated: July 23, 2020 4:38pm
How will cleaning be conducted in a lab in which a positive COVID-19 case is reported?

Lab staff will typically perform the cleaning after they can safely re-enter the lab without needing enhanced respiratory protection (a fit-tested N95 mask or PAPR). If staff are uncomfortable with performing the cleaning, the principal investigator should contact the Department of Health, Safety and Environment to arrange for cleaning by EVS/Custodial Services or an outside contractor. HSE will coordinate the cleaning of the lab with the PI and Facilities. The PI or their designee must be present on site to oversee the cleaning.

Last updated: July 23, 2020 4:42pm
How does JHU learn if university personnel are ill or experiencing COVID-19-like symptoms?

JHU faculty, staff, postdocs, and student employees who are working on campus are required to complete a health screening attestation every day they are expected to be working onsite. In addition, employees who begin feeling ill after being onsite should contact the Johns Hopkins COVID Call Center at 883-546-7546 and go home.

Last updated: July 23, 2020 4:49pm
If someone in a lab is asked to remain off-site for a few days, how will the PI be notified?

JHU faculty and staff must follow the department's standard process for reporting an absence from work. In addition, they should talk to their supervisor/local HR representative to determine whether they are allowed to work remotely, if they are feeling well enough to do so.

If a trainee/student is not approved to be onsite, their faculty sponsor will be notified that they must remain offsite. The faculty sponsor will not receive any further information, and they will not have access to the postdoc's health information. Trainees/students should contact their faculty sponsor, supervisor, or PI directly regarding their absence per policy (RPH 10.3) and should discuss whether and what work can be done from home.

Last updated: July 23, 2020 9:20pm
Someone in my lab has started to feel ill. How should I advise them?

Anyone who feels ill is encouraged to call the Johns Hopkins COVID Call Center at 883-546-7546. The JHCCC will indicate if the individual is approved to remain onsite. If the lab member is asked to leave the lab, the principal investigator should ensure they follow this instruction promptly.

A clinician from Occupational Health (for faculty, staff, and postdocs), Student Health Services (for Krieger, Whiting, Peabody, Carey, School of Education and SAIS students), or University Health Services (for School of Medicine, School of Nursing, and Bloomberg School students) will review the individual's symptoms remotely and follow up with the person who is sick, as needed.

We recommend labs continue routine cleaning and disinfecting of work surfaces, as prescribed in the Return to Research guidelines.

Last updated: July 23, 2020 4:59pm
Someone in my lab or an adjacent lab is ill. Should I be concerned?

Just as was the case before COVID-19, viruses and colds circulate throughout the year. Recent background testing of certain essential on-site reporting populations indicate there is very low circulation of COVID-19 on site at this time. If someone is sick and not approved to be on site, it should not be assumed that they have COVID-19.

Also consider that COVID-19 is primarily spread through person-to-person contact from respiratory droplets (e.g., uncovered sneezing or coughing). The most effective prevention measures remain maintaining adequate physical distancing, wearing face coverings when in the lab, and frequent handwashing. If these measures are followed, it significantly reduces risk of exposure.

It is important to note that touching a contaminated surface is not thought to be the primary way the virus spreads. While this risk of infection via a contaminated surface is relatively low compared to the risk associated with close contact with infected individuals, it is important to continue frequent handwashing and routine cleaning and disinfecting of shared work surfaces to further reduce the potential for transmission.

Last updated: July 23, 2020 8:50pm
I heard that someone in my lab tested positive. How will I know if I was exposed?

As part of the contact investigation, the Johns Hopkins COVID Call Center ICAN team will interview the individual who tested positive to determine if they had meaningful exposure to any other affiliates—including individuals whose contact with the possibly infected person was within six feet for 15 minutes or more—during the infectious period. High-risk close contacts will be notified of their exposure, asked to quarantine to prevent additional transmission, and monitored for symptoms. If you have not been contacted by ICAN, you should assume there was not an exposure that requires follow up.

Last updated: July 23, 2020 9:17pm