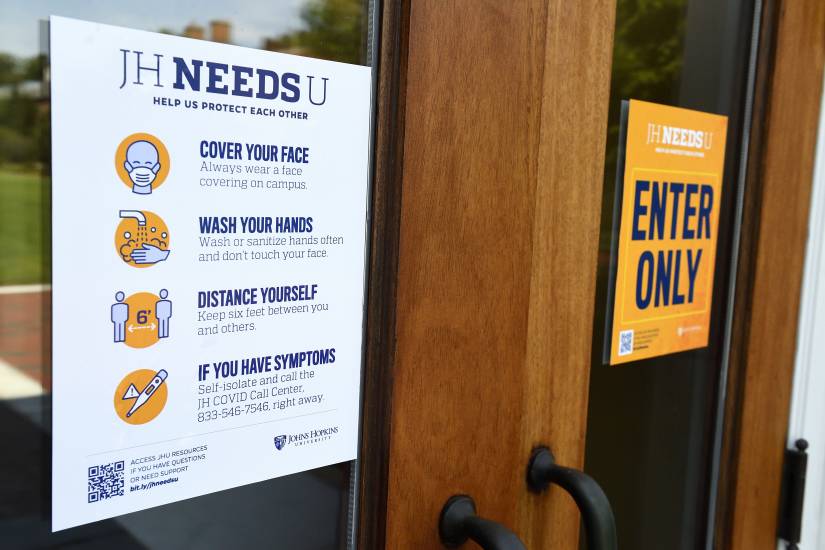 Your health and the health of our community is our primary concern. Our collective safety requires everyone to consistently follow best practices for preventing the spread of COVID-19—wearing face coverings, maintaining physical distancing, following proper hygiene, and reporting any symptoms.
Any Johns Hopkins community member who feels ill or is concerned about exposure is encouraged to call the Johns Hopkins COVID-19 Call Center at 443-287-8500, seven days a week, between 7 a.m. and 7 p.m. The JHCCC supports all JHU students, faculty, and staff, although it is primarily intended for people experiencing COVID-19 symptoms who are currently within driving distance of Baltimore. Employees should also use the call center (not Occupational Health) if you need clearance to return to work after being tested or recovering from COVID-19.
The call center is staffed by Johns Hopkins nurses and physicians and specially trained nursing and medical students. When you call, a representative will instruct you about next steps depending on your circumstances. They will arrange for testing if needed and assist in transmitting information to Occupational Health.
Compliance with Safety Guidance
All members of the university community are expected to fully comply with the policies, protocols, and guidelines outlined in the university's Return to Campus Guide. Noncompliance with COVID-19 campus health and safety guidelines could result in loss of access to university facilities as well as corrective and/or disciplinary action.
If you have a concern or complaint regarding noncompliance of JHU COVID-19 safety measures by a member of the Hopkins community, please make a confidential report immediately via the online form or by calling 844-SPEAK2US (844-773-2528).
For live, immediate response, also consider using the LiveSafe app to report concerns directly to Campus Safety & Security (with options for anonymous reporting).
Asymptomatic Testing
The university has established nine campus locations where specimens can be collected for testing. Affiliates must come to one of these nine locations in order to provide their specimens for mandatory or voluntary testing.
All undergraduate students living in the Baltimore area must have two negative COVID tests prior to attending in-person classes on Feb. 1. Testing will be required 3x per week throughout the semester (testing frequency may be increased, based on public health conditions).
Testing will be required at least once weekly for faculty, staff, graduate students, trainees, and post-docs who are either participating in or directly supporting in-person, on-campus classes (with exceptions for clinically-based instruction) or regularly exposed to undergraduates.
Required Daily Health Checks
Faculty, staff (including bargaining unit staff), and students who come to campus to work, study, or for any other reason are required to complete a daily health check on a mobile app/website called Prodensity. The goal is to increase self-awareness of the risks, signs, and symptoms associated with COVID-19 to provide rapid testing and support to decrease the likelihood of outbreaks on campus. The short questionnaire asks specific questions to assess a user's actual symptoms and/or exposure risks. Answers yield a status to a campus pass, which can be used to grant/deny campus access. The campus pass expires after 12 hours. You may not report to campus unless you have a green campus pass.
Fall 2021 Health + Safety Planning
Johns Hopkins University envisions campus operations being substantially back to normal this fall. Beginning in mid-August, JHU plans to welcome students, faculty, and staff back for a broad resumption of in-person classes and activities, with necessary public health safeguards in place. Students will be required to be vaccinated or have a religious or health exemption; faculty and staff are also strongly urged to be vaccinated before returning to campus with more details to come.
High-volume, asymptomatic COVID testing for students and other health and safety measures will remain in place as needed to protect our community, including the use of masks, available isolation and quarantine housing for undergraduates, enhanced ventilation and cleaning protocols for classrooms, a required seasonal flu vaccine, and contact tracing and other assistance provided by the Johns Hopkins COVID Call Center.
More information on these and other health safeguards will be available in the coming weeks.
Frequently Asked Questions
Vaccinations
Lab safety