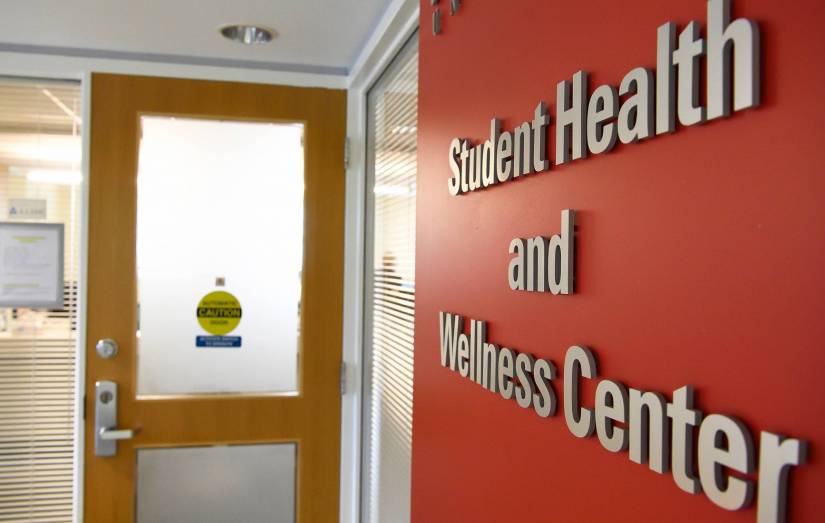 You may not report to campus unless you are free of ALL symptoms potentially related to COVID-19 or have been evaluated and cleared through the Johns Hopkins COVID-19 Call Center.
These symptoms include one or more of the following:
Cough
Shortness of breath or difficulty breathing
Fever
Chills
Repeated shaking with chills
Runny nose or new sinus congestion
Muscle pain
Headache
Sore throat
Fatigue
New GI symptoms
New loss of taste or smell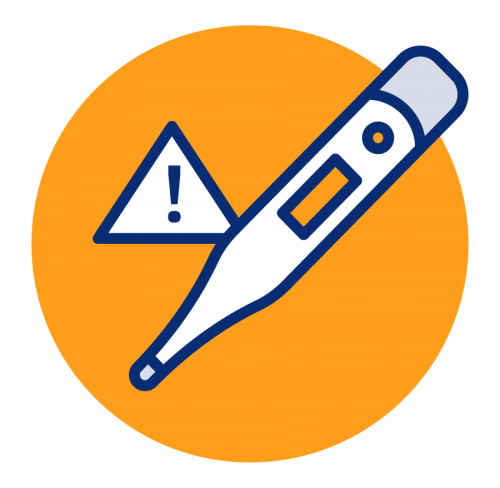 You are required to stay at home while you are sick or experiencing any of the symptoms above unless otherwise directed.
Any Johns Hopkins community member who feels ill or is concerned about exposure is encouraged to call the Johns Hopkins COVID-19 Call Center at 443-287-8500, seven days a week, between 7 a.m. and 7 p.m. The JHCCC supports all JHU students, faculty, and staff, although it is primarily intended for people experiencing COVID-19 symptoms who are currently within driving distance of Baltimore. Employees should also use the call center (not Occupational Health) if you need clearance to return to work after being tested or recovering from COVID-19.
The call center is staffed by Johns Hopkins nurses and physicians and specially trained nursing and medical students. When you call, a representative will instruct you about next steps depending on your circumstances. They will arrange for testing if needed and assist in transmitting information to Occupational Health.
If you test positive, you will be contacted by a health care worker with guidance regarding self-isolation, monitoring of symptoms, and general health advice. You will also be asked a series of questions as part of our contract tracing process to help determine if others may have been exposed in the workplace/learning environment.
Those who may have had meaningful exposure to a COVID-19-positive person will be notified without being told the identity of the patient and advised to self-quarantine for a period determined by the time of the initial exposure.
Asymptomatic Testing
The university currently has several campus testing locations where specimens can be collected. Affiliates must come to one of these locations in order to provide their specimens for mandatory or voluntary testing.
Effective Aug. 27, the following testing rules apply:
Once-weekly COVID testing will be required for all vaccinated undergraduates
Twice-weekly testing will be required for all unvaccinated faculty, graduate students, postdoctoral fellows, and staff
Testing on demand will remain available for all affiliates
Required Daily Health Checks
Prodensity mobile app
Faculty, staff (including bargaining unit staff), and students who come to campus to work, study, or for any other reason are required to complete a daily health check on Prodensity. The short questionnaire asks specific questions to assess a user's actual symptoms and/or exposure risks. Answers yield a status to a campus pass, which, along with testing compliance, can be used to grant/deny campus access. The campus pass expires after 12 hours. You may not report to campus unless you have a green campus pass.
At this time, and subject to change, the symptom questions are: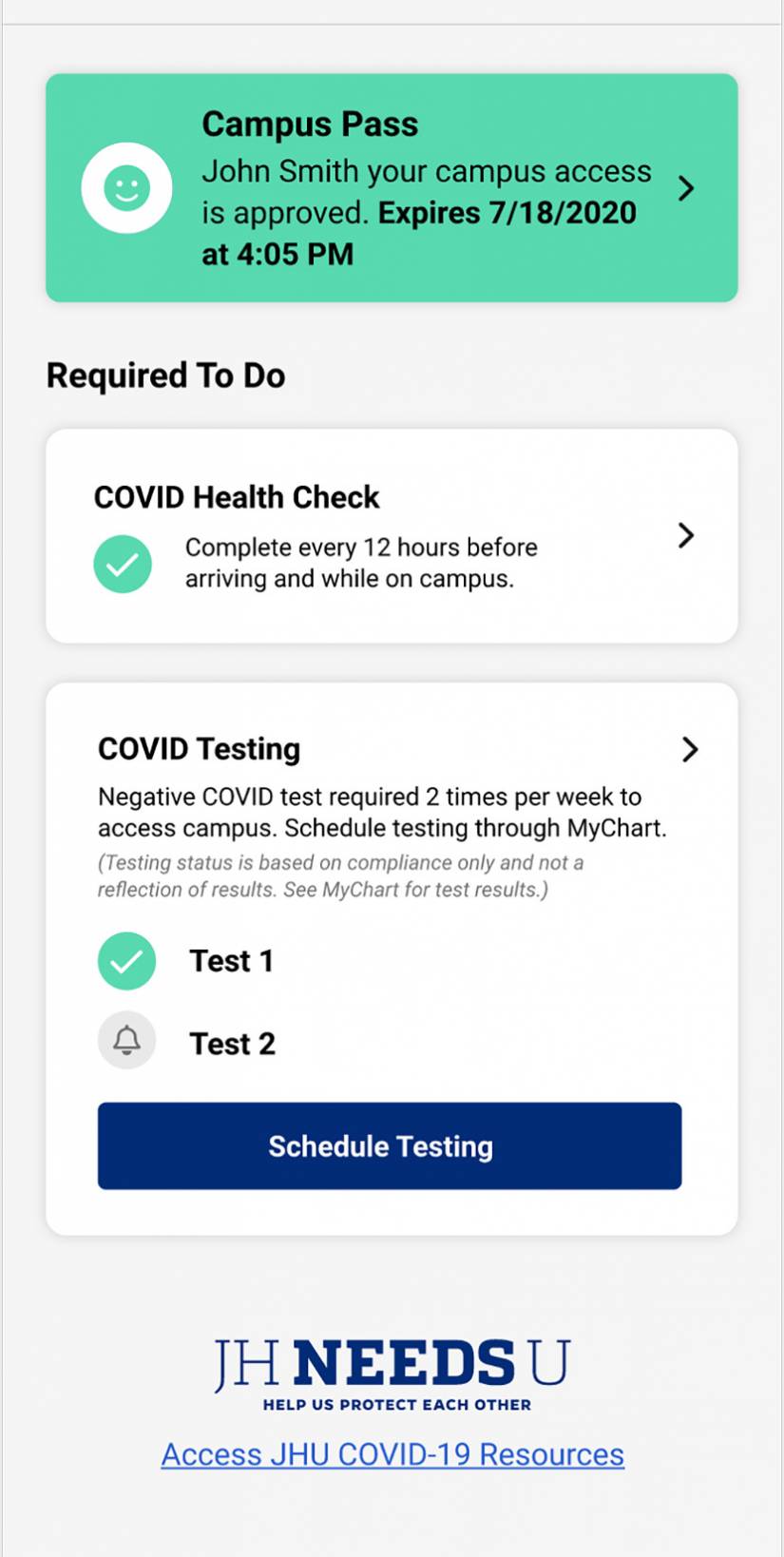 Do you currently have any of these symptoms: fever, cough, sore throat, shortness of breath, acute loss of taste or smell, headache, diarrhea/vomiting, new fatigue/muscle aches or runny nose/congestion that began in the last 72 hours?

Do you live with someone who was diagnosed with COVID-19 (coronavirus) within the last 14 days?
If you answer "No" to both questions, you are issued a green campus pass, which does not limit access to JHU facilities. If you answer "Yes" to either of the questions, you are issued a red campus pass, which limits access to Johns Hopkins facilities.
A resources section in the app provides quick access to important websites, phone numbers, and other tools for navigating campus. Prodensity also has a Support section featuring helpful tutorials, FAQ, and common troubleshooting tips.
Individuals should not access a JHU location without first completing the health check through the Prodensity app, the COVID Health Check website, or Kronos (for JHU employees who use Kronos for time tracking and attendance). Individuals should not disregard the instructions presented within the Johns Hopkins Prodensity mobile app. If the app presents a red campus pass, the user is required to self-isolate and contact the JHCCC.
Any person covered by this policy who fails to comply with the COVID Health Check requirement and provide accurate responses to the questions may be denied access to Johns Hopkins property and electronic resources. Those individuals may also be subject to disciplinary action under the Student Conduct Code (students) or the appropriate procedures applicable to faculty and staff.
Enforcement of compliance
Enforcement of compliance with the Johns Hopkins Prodensity mobile app includes:
Spot-checks: Safety Ambassadors monitor common areas to verify compliance with face covering and physical distancing policy. Safety Ambassadors may also be tasked with checking campus pass compliance via Prodensity.
Reporting and Monitoring: As users access on-campus resources their activity will be cross-referenced with completion of daily symptom checks. Users failing to comply with health checker usage will receive reminders of university policy and how to comply.
Restricting Access: Non-compliance could result in reduction of access to university resources, including but not limited to Wi-Fi or JCard access.
Disciplinary Action: Non-compliance may lead to disciplinary action under the applicable process (e.g., student conduct process, HR protocol, or the applicable collective bargaining agreement).
Data captured in the COVID Health Check will be retained for 30 days and may be used to initiate a case investigation with the JHCCC. De-identified aggregation of data (number of users engaging with system, response rates, etc.) will be used for system monitoring and improvement. The Johns Hopkins Prodensity mobile app will also follow basic security guidelines such as:
Storage of data resides within an IT@JH managed environment either on-site or within the Microsoft Azure platform. Johns Hopkins has previously negotiated data privacy terms to utilize Azure for hosting of sensitive data (including HIPAA and FERPA).
All data are protected as other sensitive data are protected, which includes (but is not limited to): encryption of data in transmit and at rest, strong authentication to access data, regular network scans to identify potential vulnerabilities, and data backed up securely in the event of an outage or other interruption of service.
Optional and As-needed Features
Check-In and Check-Out: There are campus spaces (e.g. labs and research areas) that may elect to manage density using a check-in and check-out process. When entering or leaving one of these spaces, users may need to scan QR codes to ensure compliance with capacity limits. Please refer to individual laboratory policy for specific requirements.

Alerts and Notifications: Users can opt in to receive device notifications.
Alternate Access
For users unable to use Prodensity (e.g., they do not have access to a smartphone), the COVID Health Check tool is available through a webform on myJH. On their myJH Profile, users may opt in to receive reminder emails. Users identified as on-campus without completing the COVID Health Check will be automatically enrolled in reminder emails.