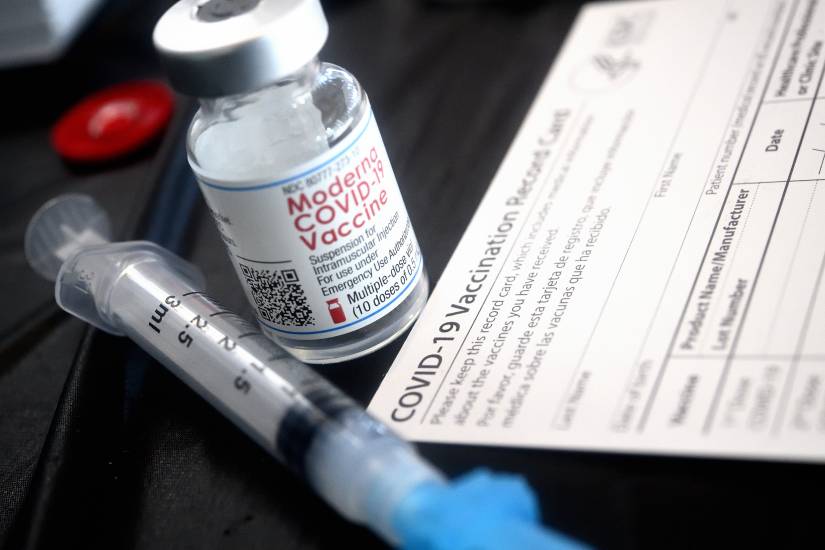 COVID-19 remains a serious illness, and we must continue to be diligent to prevent the spread of the virus. While we have simplified our policy, we strongly encourage COVID-19 vaccination. Those who are up to date with COVID-19 vaccines have lower risk of severe illness, hospitalization, and death from COVID-19 than those who are unvaccinated or have received only the primary series. Updated COVID-19 boosters can help restore protection that has decreased since previous vaccination.
COVID-19 vaccination policy
As of May 9, 2023, Johns Hopkins University has simplified its COVID-19 vaccination policy. All incoming students and employees must have received at least one dose of any FDA- or WHO-authorized vaccine. This does not impact current affiliates who have been vaccinated or have received an appropriate exemption. Upload proof of your vaccination to the Vaccine Management System (VMS) as soon as you've had your shot.
This simplified policy aligns with current FDA guidelines. It also more closely matches the wide availability of the single dose COVID-19 vaccine, as the original two-shot series is scarce.
Additionally:
School of Medicine students, trainees, and employees continue to follow Johns Hopkins Medicine policies
School of Nursing clinical sites have different requirements. School of Nursing students must meet SON clinical site vaccination requirements.
Summer-only students are exempt from the university's vaccination requirement
Note: Information on exemptions and requesting exceptions to these requirements can be found on this web page.
The policies described above include:
Individuals working at off-campus worksites such as Keswick, Mount Washington, and Johns Hopkins at Eastern
Members of collective bargaining units
Contractors who provide services to the university community and whose primary work location is on university properties located in Maryland or Washington, D.C., regardless of employer
Anyone who is doing business on behalf of the university, including individuals engaged in work-related travel
Visitors who fall under the JHU Visitor Policy (e.g., visiting faculty, students, and scholars)
Campus guests: Divisions that host on-campus guests who stay overnight in JHU on-campus residential facilities will be responsible for communicating the vaccination requirement and ensuring compliance. This includes prospective-student visitors who stay overnight in JHU-operated residential housing and those participating in JHU summer residential programs.
Exemptions
Fully remote individuals, including staff and online students who are working or studying 100% remotely, are exempt from the vaccination requirement. If plans change and an individual has to come on campus, work on-site, or participate in a JHU-sponsored residency or field study, they must be vaccinated or have an approved exception.
If a new employee, postdoctoral fellow, or transfer student, or visiting scholar has not been vaccinated before the first day of employment or activities noted above, there is a two-week grace period to complete the next step in the vaccination process (e.g., base dose or booster). Proof of vaccination should be uploaded to the Vaccine Management System within that two-week period.
Faculty and staff can take up to two days off to be vaccinated and/or to recover from any side effects. Visit the Human Resources website for additional details.
Exceptions to the vaccination and booster requirements
Exceptions may be granted in limited circumstances for:
Medical or religious reasons (note that the only true contraindications to the COVID-19 vaccine are 1) a severe anaphylactic reaction to a prior dose of one of the mRNA COVID-19 vaccines (requiring the use of epinephrine or EpiPen) or 2) an allergy to a component of the vaccine)
Additionally, the following individuals are exempt:
Employees who are, with permission of their supervisor, working in a fully remote capacity and do not visit any Johns Hopkins worksite
Contractors or vendors whose presence at any JHU property is solely limited to the delivery of goods
Students who are enrolled in entirely online programs and do not utilize Johns Hopkins facilities, and non-degree and non-credit students. (Students who participate in Peabody Preparatory classes and who are 12 years of age and older are required to be vaccinated or seek an exception; more details are available directly from Peabody Preparatory.)
New employees and new/transfer/visiting students may apply for an exception as soon as they have a JHED ID using the JHU Vaccine Management System (VMS). Additional details on how to request an exception, including required documentation can be found on this website.
Having had COVID-19 in the past is NOT a permissible criterion for an exception.
Vaccination Compliance
Any person covered by the vaccine requirement who fails to provide acceptable vaccination documentation, does not receive an approved exception, and/or has an approved exception but does not comply with testing requirements may be denied access to Johns Hopkins property and electronic resources. Those individuals may also be subject to disciplinary action under the Student Conduct Code or the appropriate procedures applicable to faculty and staff.  
If you have a concern or complaint regarding noncompliance of JHU COVID-19 safety measures by a member of the Hopkins community, please make a confidential report immediately via the online form or by calling 844-SPEAK2US (844-773-2528).
How to share vaccination status
You may be asked to show proof of vaccination status while traveling or for entrance to certain venues and facilities outside of clinical and university settings. Showing your CDC card is one common way to demonstrate proof of vaccination. However, the CDC card may also include personal information you may not want to share.
Additional options include:
Sharing vaccination or lab result information quickly, easily, and securely via MyChart:

Use the MyChart app or website to create a barcode that can be scanned by a participating organization
Download a PDF document that includes your barcodes
Export your information to another application, such as a health wallet app

Downloading vaccination information through the Apple Health app
Printing the information from ImmuNet, the Maryland State Registry
Frequently Asked Questions
Why does Johns Hopkins University require the COVID vaccine?

COVID-19 remains a serious illness, and we must continue to be diligent to prevent the spread of the virus. While we have simplified our policy, we strongly encourage COVID-19 vaccination. Those who are up to date with COVID-19 vaccines have lower risk of severe illness, hospitalization, and death from COVID-19 than those who are unvaccinated or have received only the primary series. Updated COVID-19 boosters can help restore protection that has decreased since previous vaccination.

Last updated: May 9, 2023 10:22am
Who is included in the vaccination mandate?

COVID-19 vaccination is required for all JHU faculty, staff, postdoctoral fellows, and undergraduate and graduate students who work or study at a U.S.-based university campus or worksite. That includes:

Members of collective bargaining units.
Contractors who provide services to the university community and whose primary work location is on university properties located in Maryland or Washington, D.C., regardless of employer, except contractors or vendors whose presence at any JHU property is solely limited to the delivery of goods.
Those who are doing business on behalf of the university, including individuals engaged in work-related travel.

Medical and religious exceptions will be made where appropriate.

School of Medicine affiliates will be governed by Johns Hopkins Health System vaccination policies.

"Worksite" includes locations that are not within the Homewood, East Baltimore, or Washington, DC campuses, such as but not limited to Keswick, Mt. Washington, etc.

Visitors who fall under the JHU Visitor Policy (i.e., visiting faculty, students, and scholars) are subject to the vaccination mandate.

Last updated: May 9, 2023 10:24am
Which vaccines are accepted?

JHU accepts both FDA-approved vaccines (Pfizer-BioNTech, Moderna, J&J/Janssen, Novavax) and vaccines administered outside the U.S.; Johns Hopkins Medicine (including the JHU School of Medicine) only accepts FDA-authorized COVID vaccines. In addition, all JHU affiliates must receive an mRNA COVID booster (either Pfizer-BioNTech or Moderna) as soon as they are eligible (the booster is not required for School of Medicine affiliates). All vaccination documentation must be uploaded to the Vaccine Management System (VMS).

Last updated: May 12, 2023 3:24pm
Are there exceptions to the vaccination mandate?

Yes. Medical and religious exceptions will be made using the standard vaccine exemption process in the Vaccine Management System.

Last updated: Jan 12, 2022 2:53pm
Vaccination requirement – faculty and staff
Can I take time off to get vaccinated?

Yes. Faculty and staff can take up to two days off to be vaccinated and/or to recover from any side effects of the vaccine. See JHU HR for details.

Last updated: Oct 13, 2023 12:26pm
Can I take time off to be tested?

Yes. You are permitted 30 minutes of time off for testing. (This does not need to be accounted for specifically in your E210 time sheet.)

Last updated: Aug 4, 2022 10:56am
How do the vaccination policies apply to faculty, students, or staff who may be returning to Johns Hopkins' U.S.-based worksites from abroad?

If the affiliate was able to be vaccinated abroad with a non-FDA vaccine, those doses will be accepted by JHU. Email a copy of the vaccination documentation to VMS@jhu.edu and it will be uploaded to VMS for you. These affiliates should then get an mRNA booster (either Pfizer or Moderna) to be in compliance with JHU requirements. If the affiliate was not vaccinated abroad, they should start their COVID vaccine in the U.S.

Last updated: March 9, 2022 5:01pm
Does the mandate apply to university contractors?

The mandate includes non-employees who provide services to the university community and whose primary work location is on university properties located in Maryland or Washington, D.C., regardless of employer, with the exception of contractors or vendors whose presence at any JHU property is solely limited to the delivery of goods.

Last updated: June 9, 2021 12:53pm
Can I ask my colleagues/can they ask me about my vaccination status?

Managers and business partners have a business need-to-know in many situations, and are allowed to ask about vaccine status. However, it is not the same for colleagues/peers. Asking why an individual did not receive a vaccination may elicit private information about a disability and forcing a co-worker to disclose a disability could be noncompliant with the Americans with Disabilities Act (ADA). In other words, asking about status is only allowed if it is "job-related and consistent with business necessity," which means that JHU and managers can ask their direct reports, as can HR business partners. However, peers/colleagues do not have a business necessity to know this. Therefore, while you may be allowed to ask your coworker, they have the right to refuse to tell you (and vice versa).

Last updated: Aug 4, 2022 10:57am
Who will know my status if I upload my vaccine information to the Vaccine Management System?

Your manager and divisional HR business partner will have access to see your status but will not know why you were granted an exception, if you have one. Managers and HR have permission to access this information for business-related reasons (such as when it is a requirement for working in person), to ensure that everyone is being compliant with the vaccination mandate or the masking and COVID testing requirements associated with an approved exception to the mandate. 

Last updated: July 1, 2021 3:32pm
What are the COVID vaccination requirements for new JHU employees?

As of May 9, 2023, Johns Hopkins University has simplified its COVID-19 vaccination policy. All incoming students and employees must have received at least one dose of any FDA- or WHO-authorized vaccine. This does not impact current affiliates who have been vaccinated or have received an appropriate exemption. Documentation must be provided through our Vaccine Management System. Our policy for granting medical and religious exceptions remains unchanged.

Last updated: May 9, 2023 11:31am
VMS: How to Submit Proof of Vaccination or Request an Exception
How do I report my vaccination status?

All JHU affiliates must log in to the Vaccine Management System (VMS) to upload their flu, COVID, and COVID booster vaccination documentation.

Last updated: Jan 12, 2022 3:53pm
What is the link for the VMS?

Last updated: July 1, 2021 2:16pm
How will the university verify COVID vaccine records from other countries in other languages?

The university asks that vaccination documentation in other languages be translated (and certified) before they are uploaded to the forthcoming Vaccine Management System. All affiliates will electronically sign their submission to affirm that the information that they provided is accurate.

Last updated: June 22, 2021 12:15pm
How can JHU ask about my vaccine status? Isn't this a HIPAA violation?

The U.S. Equal Employment Opportunity Commission (EEOC) has confirmed that Federal EEO laws do not prevent an employer from requiring all employees physically entering the workplace to be vaccinated for COVID-19, so long as employers provide reasonable accommodations and other EEO considerations. The EEOC does not consider questions about vaccination status to be medical inquiries. HIPAA, the Health Insurance Portability and Accountability Act, provides protections for patients' confidential health information, and it covers what your health care provider can share with others—not employers and what they can ask for.

Last updated: June 23, 2021 5:01pm
What file types are acceptable for uploading proof of vaccination?

You can upload a JPEG, HEIC (iPhone), or PNG photo of your vaccination card or a PDF copy of a vaccination record.


Last updated: July 22, 2021 10:45am
What do I do if I lost my vaccination card?

If you were vaccinated in Maryland; West Virginia; or Washington, D.C., you can register and obtain your COVID-19 vaccination record from MyIRMobile, a free website service that allows consumers to view and print copies of their official vaccination records directly from ImmuNet, Maryland's immunization information system. Just register, download or print a copy of your certification of vaccination, and upload it into VMS.

If you were not vaccinated in Maryland, your doctor's office or the location where you were vaccinated (e.g., CVS, Walgreens, etc.) should also have a record and you should reach out to them to get a copy. You may also be able to locate this on your patient portal or on the pharmacy website under prescription records or immunization record. You can find your state's immunization records system at this link provided by the CDC.

Last updated: Oct 13, 2023 12:25pm