Faculty, staff (including bargaining unit staff), and students who come to campus to work, study, or for any other reason are required to complete a daily health check on the Prodensity mobile app or website. 
There are two ways to complete the health check:
Download the Prodensity app (for iOS or Android devices)
Visit the COVID Health Check website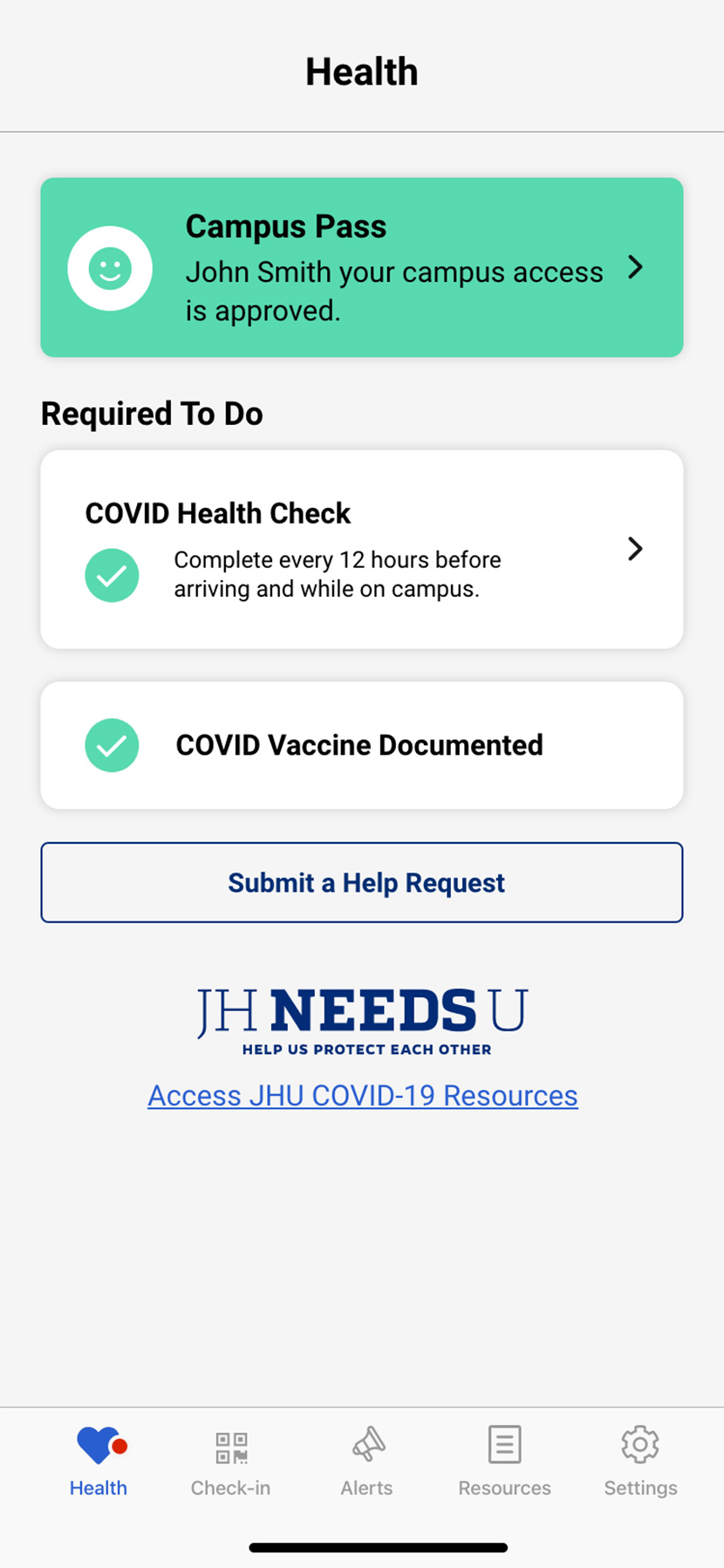 A short questionnaire asks specific questions to assess whether a user has COVID-19 symptoms and/or risk of exposure to COVID-19. Answers yield a campus pass, which, along with testing and vaccine compliance, can be used to grant or deny access to campus and other university resources, including Wi-Fi and J-Cards. The campus pass expires after 12 hours. You may not report to campus unless you have a green campus pass. 
You may opt to receive Prodensity reminder emails through your myJH Profile. Affiliates identified as on-campus without a green pass may be automatically enrolled in reminder emails.
At this time, and subject to change, the symptom questions are:
Do you currently have any of these symptoms: fever, cough, sore throat, shortness of breath, acute loss of taste or smell, headache, diarrhea/vomiting, new fatigue/muscle aches or runny nose/congestion that began in the last 72 hours?
Do you live with someone who was diagnosed with COVID-19 (coronavirus) within the last 14 days? 
If you answer "No" to both questions, you are issued a green campus pass, which grants access to JHU facilities. If you answer "Yes" to either of the questions, you are issued a red campus pass, which limits access to Johns Hopkins facilities and instructs you to contact the Johns Hopkins COVID Call Center at 443-287-8500 to report your symptoms.
If you are 100% remote or a student taking classes only online, you should change your status in Prodensity to indicate you will not be coming on campus. For more information on how to ensure your status is up to date, read this Prodensity tutorial.
Prodensity Resources
A resources section in the Prodensity app provides quick access to important websites, phone numbers, and other tools for navigating campus. Prodensity also has a support page that includes tutorials, FAQs, and troubleshooting information.
Enforcement of Compliance
While Prodensity has integrated real-time compliance with symptom screening, vaccination, and testing mandates, compliance is monitored primarily through weekly reports sent to divisional response teams (composed of divisional leadership including HR managers and divisional business officers) and student affairs staff. Real-time compliance using Prodensity passes should only be used in situations where routine screening can be accomplished by authorized JHU personnel—for example, a security desk for accessing certain JHU facilities or at a check-in desk for certain on-campus events.
Unless authorized by University Administration, faculty, staff, and students are not permitted to make any demands to view Prodensity passes of any JHU affiliates or restrict activities based upon this information. Additionally, instructors cannot ask about the vaccination status of their students/trainees, ask whether they plan to be vaccinated, or require a student/trainee to show their Prodensity pass. Asking about a student/trainee's vaccination status may prompt disclosure of disability-related information or information regarding existing health conditions that are relevant to the vaccination.
If you have a concern or complaint regarding noncompliance with JHU COVID-19 safety measures by a member of the Hopkins community, please make a confidential report immediately via the online form or call 844-SPEAK2US (844-773-2528).
Any individual covered by this policy who fails to comply with the COVID-19 health check requirement may have their access to university locations and resources restricted. Compliance enforcement includes:
Reporting and Monitoring: As users access on-campus resources, their activity will be cross-referenced with completion of daily symptom checks. Users failing to complete the daily health check before coming to campus will receive reminders of university policy and how to comply.
Restricting Access: Non-compliance could result in reduction of access to university resources, including but not limited to Wi-Fi or J-Card access. 
Disciplinary Action: Non-compliance may lead to disciplinary action under the applicable process (e.g., student conduct process, HR protocol, or the applicable collective bargaining agreement).
Data captured in Prodensity will be retained for 30 days and may be used to initiate a case investigation with the JHCCC. De-identified aggregation of data (number of users engaging with the system, response rates, etc.) will be used for system monitoring and improvement. The Johns Hopkins Prodensity mobile app will also follow basic security guidelines such as:
Storage of data resides within an IT@JH managed environment either on-site or within the Microsoft Azure platform. Johns Hopkins has previously negotiated data privacy terms to utilize Azure for hosting of sensitive data (including HIPAA and FERPA).
All data are protected as other sensitive data are protected, which includes (but is not limited to): encryption of data in transmit and at rest, strong authentication to access data, regular network scans to identify potential vulnerabilities, and data backed up securely in the event of an outage or other interruption of service.
Frequently Asked Questions
What is Prodensity and who needs to use it?

Faculty, staff (including bargaining unit staff), and students who come to campus to work, study, or for any other reason are required to complete a daily health check on the Prodensity mobile app or website.

A short questionnaire asks specific questions to assess whether a user has COVID-19 symptoms and/or risk of exposure to COVID-19. Answers yield a campus pass, which, along with testing and vaccine compliance, can be used to grant or deny access to campus and other university resources, including Wi-Fi and J-Cards. The campus pass expires after 12 hours. You may not report to campus unless you have a green campus pass.

You may opt to receive Prodensity reminder emails through your myJH Profile. Affiliates identified as on-campus without a green pass may be automatically enrolled in reminder emails.

Last updated: June 25, 2021 9:50am
Why can't I download the Prodensity app?

If you are an international affiliate, your app settings may need to be changed, because Prodensity is only available on the US-based app stores for Apple and Google. Apple users should follow the instructions at this link to create a US-based account.

Google users should following the instructions at this link.

Last updated: June 22, 2021 3:06pm
Daily Health Checks
Why do vaccinated individuals need to continue to complete daily health checks when there is no mandated testing or tracking of infections for this population?

Our public health and medical experts have urged us to continue preventing individuals who may be symptomatic with COVID from coming to campus. In addition, Prodensity enables the university to monitor compliance for self-reported symptoms, vaccinations, and testing in one system that has both front-end (green pass) and back-end (reporting) capabilities.

Last updated: July 28, 2021 4:08pm
How do I complete my daily health check if I do not have a smart phone?

Go to https://prodensity.jh.edu/welcome and scroll down to the blue box labeled "Complete Health Check" in the "Take the COVID Health Check" section of the site, midway down the page.

Last updated: July 21, 2021 1:37pm
What do I need to do if I am working/studying remotely and do not intend to be on campus?

If you are a fully online student or an employee working on a 100% remote basis, or you do not plan to visit JHU campus or travel on behalf of JHU, go to Prodensity and set your status to "Off-campus" so that you no longer receive reminder emails. Other than resetting your campus status, no other action is required.

If you are not vaccinated, however, you are encouraged to consider vaccination and to upload your status to VMS should your situation change in the future.

Note: If your situation changes in the future and you do come to campus—or participate in any off-site business, field studies, or residencies while you are affiliated with JHU—you need to submit vaccination documentation before participating.

Commencement information

Students participating in on-campus commencement ceremonies and events must comply with the JHU vaccination mandate and must have received either an FDA-authorized COVID-19 vaccination or an approved medical or religious exception prior to coming on-campus, even if they were fully "online" students during their course of study.

Family members and other non-affiliates attending commencement events fall under the JHU guest policy and are therefore not subject to the vaccination mandate, but they must adhered to all masking regulations at the time of the event. The registrars are working on a policy that separates out provision of diplomas from the graduation ceremony.

Last updated: Oct 13, 2021 4:03pm
Diagnostic Testing
If I am required to be tested on a regular basis, what do I do? Am I automatically scheduled for an appointment or should I schedule one? Can I walk up?

You need to make an appointment prior to arriving at the testing site, although last-minute appointments are often available. The university has established several campus locations across JHU for mandatory or voluntary testing. Detailed testing site information and hours of operation can be found on the Testing Locations + Schedules page on this website.  

You must have an active MyChart account to participate in the testing and vaccination programs at JHU. Appointments may be made through MyChart (which is also available as a mobile app from the Apple App Store or Google Play). If you are having issues activating your MyChart, you can call 888-676-3433. 

Last updated: Aug 23, 2021 11:18am
How do I make a testing appointment?

Appointments can be made through MyChart (also available as a mobile app from the Apple App Store or Google Play). You must have an active MyChart account to participate in the testing and vaccination programs at JHU. If you are having issues activating your MyChart, call 888-676-3433 or email Testinginfo@jhu.edu.

Also see: Testing locations and schedules

Last updated: Aug 26, 2021 9:20am
Which days of the week should I be tested?

You can pick any day of the week for once weekly testing, or any two days for twice weekly testing, but you cannot be tested on consecutive days.

For the purposes of testing, the new week resets on Monday morning. Prodensity compliance is determined by counting the number of tests taken between Monday and Sunday of the previous week. 

Last updated: Aug 23, 2021 4:34pm
Where is testing available and what are the hours of operation?

The university has established several campus locations across JHU for mandatory or voluntary testing. Detailed testing site information and hours of operation can be found on the Testing Locations + Schedules page on this website. 

Last updated: Aug 9, 2021 4:00pm
If I plan to live outside of Baltimore, do I need to participate in any of the JHU testing protocols?

No.

Last updated: June 22, 2021 3:04pm
Vaccination+Testing Compliance
How is Prodensity used for compliance?

While Prodensity has integrated real-time compliance with symptom screening, vaccination, and testing mandates, compliance is monitored primarily through weekly reports sent to divisional response teams (composed of divisional HR managers and divisional business officers) and Student Affairs staff.

Real-time compliance using Prodensity passes should only be used in situations where routine screening can be accomplished by authorized JHU personnel—e.g., a security desk for accessing certain JHU facilities or at a check-in desk for certain on-campus events.

Unless authorized by University Administration, faculty, staff, and students are not permitted to make any demands to view the Prodensity passes of any JHU affiliates or restrict activities based upon this information. If you have a concern or complaint regarding noncompliance with university COVID-19 safety measures by a member of the Hopkins community, please make a confidential report via the online compliance form or by calling 844-SPEAK2US (844-773-2528).

Last updated: Aug 26, 2021 8:43am
Who is responsible for overseeing student/trainee compliance with vaccination and testing requirements?

Student Affairs staff, who have been designated in each school to have access to the Vaccine Management System, are responsible for identifying students/trainees who are out of compliance with either uploading their vaccination documentation or receiving an exception and will follow-up with them individually.

They also receive regular reports on compliance with mandatory testing requirements and will follow up with those students/trainees who are not following the required testing frequency.

Last updated: Aug 26, 2021 8:21am
Can an instructor/mentor ask their students/trainees about their vaccination status or ask to see their Prodensity pass?

No. Instructors cannot ask about the vaccination status of their students/trainees, ask whether they plan to be vaccinated, or require a student/trainee to show their Prodensity pass. Asking about a student/trainee's vaccination status may prompt disclosure of disability-related information or information regarding existing health conditions that are relevant to the vaccination.

Unlike when students receive a disability accommodation through the Office of Disability Services, any adjustments to the student's/trainee's academic activities due to vaccination status or testing noncompliance will be communicated to the student and instructor/mentor by the school's Student/Academic Affairs office.

If a student receives accommodations through disability services, instructors/mentors should not assume they are related to a student's vaccination status.

Last updated: Aug 26, 2021 8:40am
Will I be notified about the unvaccinated students/trainees in my class/lab/studio?

No.  Divisional Student/Academic Affairs staff are provided this information for business-related reasons to ensure that students/trainees are being compliant with the university's vaccination mandate and COVID testing requirements.

Last updated: Aug 30, 2021 4:01pm
Can I forbid unvaccinated students/trainees from participating in events in my class/lab/studio? Can I change instructional or research activities of unvaccinated students/trainees?

No. Any adjustments to the student/trainee's activities, including participations in class/lab/studio activities, will be communicated by the school's Student/Academic Affairs office to both the instructor and the student/trainee.

Last updated: Aug 30, 2021 4:02pm
Can a student/trainee ask their instructors or peer students/trainees about their vaccination status?

No. Students/trainees are reminded that vaccine status is personal information, and just as instructors cannot ask students/trainees themselves, they also cannot ask to know the vaccine status of their instructors or peers.

Last updated: Aug 30, 2021 4:02pm
What if a student/trainee is not comfortable being in a class/lab/studio with an unvaccinated instructor/mentor or unvaccinated peer students/trainees?

In addition to vaccinations, the university has continued to implement policies and procedures to maintain a safe environment for all affiliates.  This includes continued attention to building ventilation and filtration, use of indoor face-coverings, limiting the overall size of in-person classes and events unless special permission has been granted, and testing mandates (e.g., those who have an approved vaccination exception).  Absences will not be excused for students/trainees who choose to miss in-person required classes because of these concerns.

Last updated: Aug 30, 2021 4:03pm
I'm concerned that I will be falsely reported for being out of compliance with the Prodensity daily health check if the JHU network detects I've connected to Wi-Fi when I am close to campus but not on campus. What is being done to address this?

JHU affiliates will only be identified as "on campus" if their Wi-Fi is detected for over an hour at two different on-campus access points. Additionally, it is strongly recommended that affiliates do not leave Wi-Fi enabled devices in office locations overnight. 

Last updated: June 22, 2021 3:05pm